Santa Clara, Calif.-based EfinixTM has received silicon product samples for its first QuantumTM-accelerated programmable product platform. The announcement was made jointly with Semiconductor Manufacturing International Corporation (SMIC), a semiconductor foundry headquartered in Shanghai, China.
Built on SMIC's 40nm process, Efinix achieved this milestone with record-breaking efficiency, going from product development using SMIC's Physical Design Kit (PDK) to system validation of the samples in less than six months.
Efinix's Quantum programmable technology delivers a 4X Power-Performance-Area advantage over traditional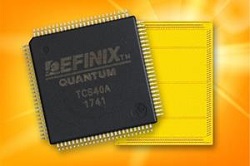 Source: Efinix, Inc.programmable technologies. This disruptive advantage enables its silicon products to compete in high-growth markets such as custom logic, deep learning and compute acceleration.
"SMIC's 40nm low leakage platform has already been in mass production for over five years. It has more than 220 products. We are excited to be working with Efinix to develop the Quantum programmable technology on our advanced and reliable platform," said Sunny Hui, senior vice president of Worldwide Marketing at SMIC. "FPGA programmable products are technically challenging to develop, but Efinix's Quantum technology made it straightforward. We look forward to working with Efinix to deliver its first product line to production and to support joint developments in the near future."
Efinix is currently working with a few enabling customers. Details of the first phase of Quantum-accelerated product line will be released in the first quarter of 2018.