Laryngectomy – removal of the larynx – affects about 300,000 worldwide annually, robbing them of the powers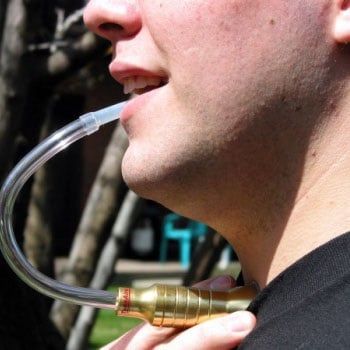 The Pneumatic Artificial Larynx. Source: Western Sydney University of speech. Voice can be restored to a limited extent by surgical implantation of prosthetic devices into the open wound in the neck, known as the 'stoma'. The procedure is invasive, prone to complications and leaves the patient with a hoarse, unnatural-sounding voice.
A bionic approach has been advanced by researchers at the MARCS Institute at Western Sydney University, Australia. The Pneumatic Artificial Larynx (PAL) device is a non-invasive artificial larynx that produces a high-quality voice.
PAL requires the use of the patient's breath, using a tube from the mouth to the stoma. The pneumatic design recreates the function of the larynx and generates a voice using only respiration and without any nerve input.
The new Pneumatic Bionic Voice (PBV) prosthesis is an electronic adaptation of the PAL. Despite existing design and performance limitations, available PAL technology provides an excellent reference for designing PBV prostheses. Voice generation in these systems is performed by a software model of the PAL; the software monitors respiration variations and similarly generates voice. The generated voice is then played inside the mouth for the patient to speak with.
What makes PBV bionic? The electronic prosthesis uses the patient's respiratory system without the need for surgical intervention. The clear advantage of PBV is that, similar to the PAL and unlike the existing gold standard, the prosthesis will remain non-invasive and non-surgical.
The next step is to produce a functional PBV prosthesis, expected to take the form of a small 'control unit' which can be affixed over the stoma on the outside of the neck, as well as a 'voice source' unit which rests on the roof of the patients' mouth. The researchers say this design will be the world's first non-invasive, non-surgical, electronic voice prosthesis, and would result in far superior, human-sounding speech.
The research is published in PLOS ONE.