Researchers from the Southwest University of Science and Technology and Tsinghua University have created a robotic gripping mechanism that mimics the way sea anemone catches its prey.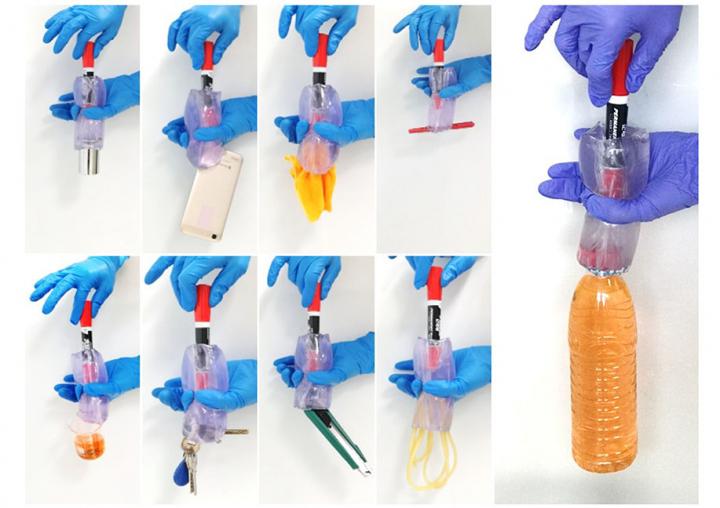 This image shows a simple prototype of the gripper's adaptability to various objects. Source: Weifeng Yuan
The device, called a bionic torus, is a liquid-filled ring with thermoplastic rubber skin lining the exterior. It captures and releases objects by crimping the skin. The bionic torus is cheap and easy to produce and can grab a variety of objects in different sizes, shapes, weights and materials. The skin rolls inward when the inner skin of the gripper experiences a pulling force and sucks in the target. The bionic torus' features, like the rolling direction and length of skin, are adjustable. Users can also control if the object being gripped is engulfed, swallowed or released.
Researchers demonstrated the device by latching it onto various objects. The objects that the torus can pick up include a cell phone, a piece of cloth and a glass beaker filled with liquid. The gripper went from grasping a steel bar on a table to grabbing an egg from a basket without needing to reset control parameters.
The gripper is inspired by sea anemones, which can capture sea creatures of all different shapes and sizes. When an anemone has its eye on prey, it waits for the prey to swim by, then it ejects its venomous stinging threads to paralyze the prey. Once the prey is paralyzed, the anemone uses its tentacles to grasp and sweep dinner into its mouth.
The bionic torus could grasp fragile objects in narrow spaces or extreme high-pressure environments. It could be used for a variety of jobs, including collecting samples of deep-sea organisms or conveying pipes. Researchers say it could be built on a nanoscale to manipulate individual cells, which means it has the potential for surgical instrument applications.
A paper on the bionic torus was published in Applied Physical Letters.