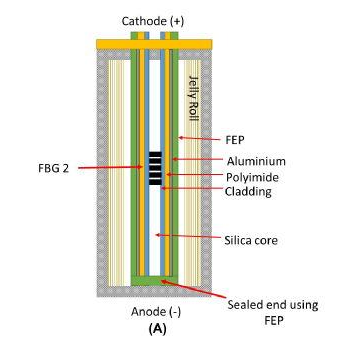 A lithium battery temperature sensor. Source: WMG/University of Warwick.It's an ongoing problem for engineering, with applications for electric vehicles, energy storage providers and a variety of consumers: finding faster-charging battery strategies that do not come at the expense of battery life.
Researchers at the Warwick Manufacturing Group (WMG), part of the University of Warwick in Coventry, England, may have a solution. They have developed an internal temperature test for lithium-ion batteries and their electrode potentials which demonstrates that the batteries can be safely charged up to five times faster than the current recommended charging limits.
When a battery becomes overheated, severe damage may result – particularly to its electrolyte, which can break down to form flammable gases and cause a build-up of pressure. Overcharging the anode can also lead to lithium electroplating, which will eventually cause an internal short circuit with the cathode – and subsequent catastrophic failure. Manufacturers avoid these problems by stipulating a maximum charging rate or intensity, based on an estimation of crucial temperature and potential levels to avoid.
But this is only an estimation based on limited, external instrumentation. It does not take into account precise electrode potential data, because gathering that data requires internal temperature testing that comes at the expense of a significant effect on performance. As a result, manufacturers have assigned very conservative charging rate and intensity limits to play it safe.
The new WMG technology relies on miniature reference electrodes with a chemically-protective skin that can withstand the corrosive nature of the electrolyte. The device can have direct contact with all key elements of the battery and withstand electrical, chemical and mechanical stress inflicted during operation. This allows for direct, highly-precise internal temperature and "per-electrode" status monitoring during normal battery operation without impeding battery performance.
The research may lead the way to advances in battery materials science, flexible battery charging rates and the engineering of new battery materials and technology. It also has the potential to help the design of energy storage systems for high performance applications such as motor racing and grid balancing.
The research is published in the journal Electrochimica Acta.