One of the major problems with electronic devices is that the battery is still draining even if the device is in sleep mode. Poor battery life is one of the most frustrating parts of owning electronics. Researchers from Stanford University extend the battery life of electronics, like a cell phone, through waking up the device receiver, which turns on devices that are powered down.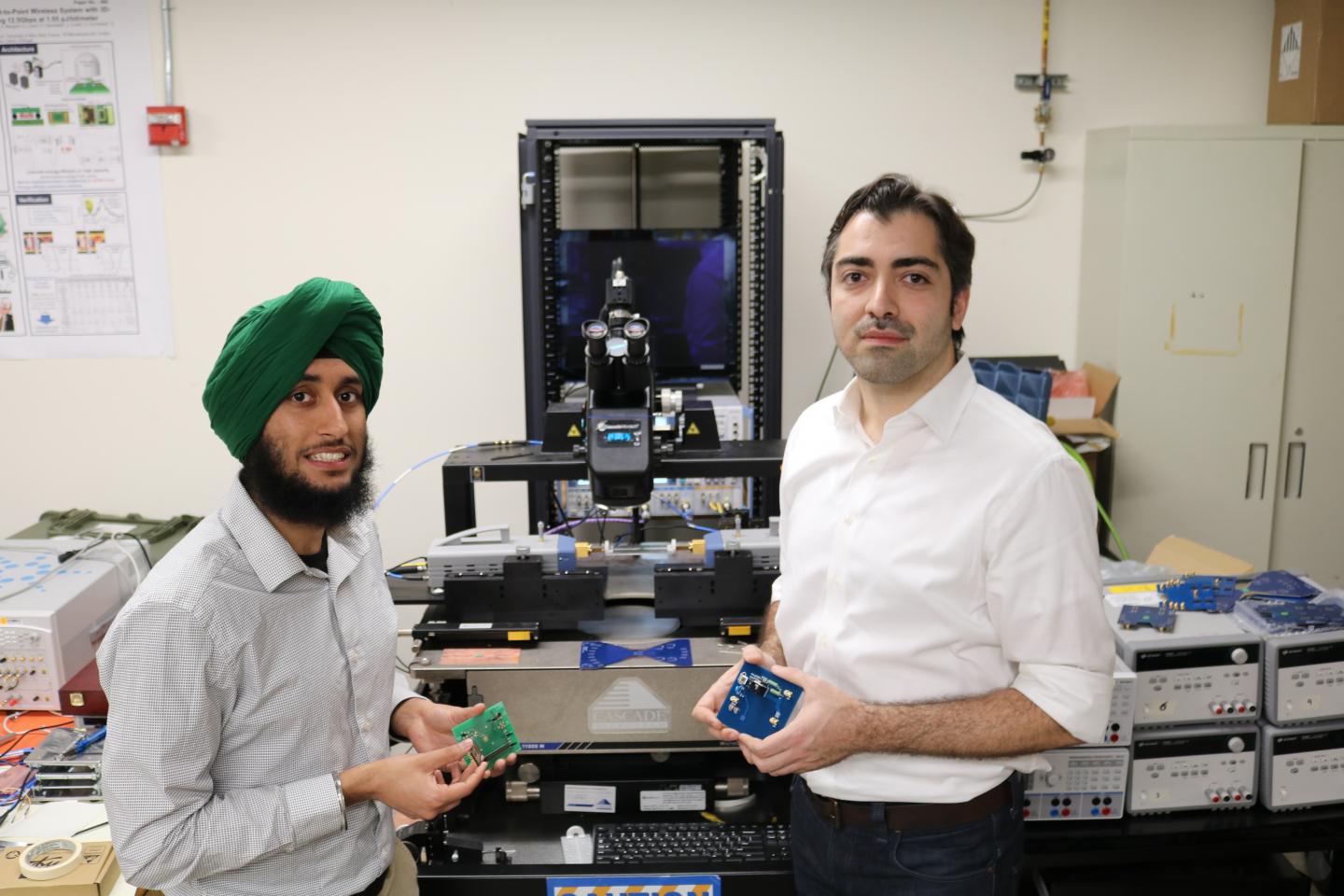 This is Amin Arbabian, assistant professor of electrical engineering (right), and graduate student Angad Rekhi (left) with their ultrasonic wake-up receiver and the circuit boards used to test its performance. Source: Arbabian Lab/Stanford University
The researchers have created a wake-up receiver that uses incoming ultrasonic signals to turn on an electronic device. By working in a wavelength that humans can hear, which is a very small wavelength range, and switching to ultrasound, the researchers' receiver ends up being smaller, extremely low power and with an extended range. There are a lot of potential uses for this new receiver, especially for designing the next generation of electronics and smart devices.
"As technology advances, people use it for applications that you could never have thought of. The internet and the cellphone are two great examples of that," said Angad Rekhi, a graduate student at the Arabian Lab at Stanford and researcher on this new device, "I'm excited to see how people will use wake-up receivers to enable the next generation of the Internet of Things."
So how does this new transmitter work? When attached to a sleeping device, the wake-up transmitter waits and listens for a unique ultrasonic pattern that signals it to turn on the device. In order to operate there is a small amount of power that the transmitter uses to maintain listening mode. This saves energy on the device which, in turn, extends the overall battery life of the bigger device. It also allows the user to turn on their electronics from a far distance.
"Scaling down wake-up receivers in size and power consumption while maintaining or extending range is a fundamental challenge," Amin Arbabian, assistant professor of electrical engineering, said. "But this challenge is worth pursuing because solving this problem can enable scalable networks of wake-up receivers working in our everyday environment."
To make the receiver and the amount of energy it used is small, the team used ultrasonic transducers that convert analog sound into electrical signals. They used this to create a system that uses a small amount, in this case just 1 nanowatt of signal power, to wake up the device.
The researchers hope that their wake-up transmitter will be used in commercial applications soon. They also hope that this development can push internet of things devices to work at their full potential.