The LTC4125 from Linear Technology Corporation is a monolithic full bridge resonant driver that can deliver up to 5 W to a companion receiver. Designed to function as a wireless power transmitter in a wireless power transfer system, the device provides three key features: an AutoResonant function that maximizes available receiver power, an Optimum Power Search algorithm that maximizes overall wireless power system efficiency, and Foreign Object Detection (FOD) to ensure safe and reliable operation when working in the presence of conductive foreign objects.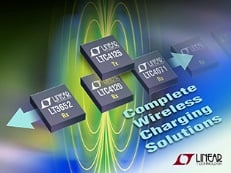 The LTC4125 resonant driver serves as a wireless power transmitter in a wireless charging system (Source: Linear Technology).
The LTC4125's AutoResonant switching automatically adjusts drive frequency to match the LC network resonant frequency. This enables the device to deliver maximum power from a low voltage input supply (3 V to 5.5 V) to a tuned receiver such as Linear's LTC4120 wireless receiver and battery charger via loosely coupled coils. Wireless power receivers can also be designed with the LTC4071 shunt battery charger or the LT3652HV multi-chemistry battery charger.
To optimize system efficiency, the LTC4125 employs a periodic transmit power search and adjusts the transmission power based on the receiver load requirements. The device stops delivering power in a fault condition, or in the case of a detected foreign object. Other features include a programmable maximum current limit and an NTC input.
The LTC4125 is housed in a low profile (0.75 mm) 20-pin 4 mm x 5mm QFN package and is designed to operate from -40 °C to 125 °C, in both E and I grades. List price in quantities of 1,000 starts at $4.00 each for the E grade.