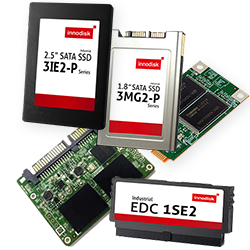 Source: New Yorker Electronics New Yorker Electronics and Innodisk have teamed up to supply end users with a complete spectrum of active and passive components for a wider range of applications.
Innodisk is a service-driven provider of industrial embedded flash storage and DRAM storage products and technologies, with a focus on the enterprise, industrial, aerospace and defense industries. The company has its own firmware team and manufactures all of its products in its memory production facility. The entire production center was designed to maximize manufacturing efficiency and ensure the highest product quality, allowing Innodisk to respond quickly and accurately to deliver tailor-made solutions that are highly reliable.
Innodisk, a very unique player in the embedded flash and DRAM storage segment, is noted for its expertise in the customization of industrial embedded memory. Pairing with New Yorker Electronics, a global electronic components franchise distributor for 70 years, means a wider range of products are now readily available to a greater number of customers.
This relationship provides Innodisk with an established international distribution channel and robust e-commerce operation. For New Yorker Electronics, it means a very valuable extension to its current offerings of passive components. Customers will benefit from extraordinary ease of access to Innodisk's vast product line of active components with the experience and responsiveness for which New Yorker Electronics is known.
Innodisk's storage products are fully compliant with aerospace and defense standards and its embedded flash and DRAM storage featuring InnoRobust® are specially designed for aerospace and defense applications. Similarly, New Yorker Electronics is an AS9210 and ISO 9001:2015 certified source of capacitors, resistors, semi-conductors, connectors, filters, inductors and more. It distributes to all types of customers but operates exclusively at heightened military and aerospace performance levels.
New Yorker will be distributing the entire line of Innodisk Flash Storage, DRAM Modules and Embedded Peripherals — including Innodisk's recently introduced "world's smallest RAID 1 solution," which can achieve real-time synchronization of information to ensure service continuity.