Bridg, an industry-led public-private partnership for advanced technologies and manufacturing processes, is collaborating with Face® International Corporation in the development and integration of a patented energy-harvesting technology — the Evercell™ power cell — that is capable of powering wireless internet of things (IoT) sensors without batteries.
The Evercell technology employs a unique design and advanced materials to harvest thermal energy in any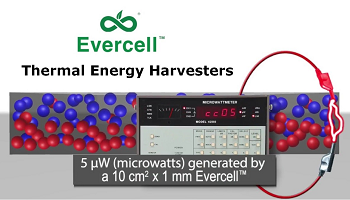 Source: Bidgenvironment where the ambient temperature is above absolute zero — reliably generating the microwatts of electrical power needed to run wireless IoT sensors without the need for batteries. The power cells are inexpensive to produce, consume no fuel, have no moving parts and contain no toxic materials. Company officials report that an Evercell demonstration device has been operating continuously for 16 months with undiminished performance, producing enough electrical output to power a typical wireless sensor.
Technology company Face International Corporation developed and patented the energy harvesting power cell to address a technology barrier to growth of the IoT — the dependence on billions of batteries to power the sensors critical to its operation. As part of the collaboration to commercialize the Evercell technology, Bridg and Face intend to cooperatively undertake technology validation for product integration development and prototype manufacturing of Evercell power cells at its NeoCity campus in central Florida, with the goal to achieve mass production by 2019, based on customer-driven demand. Bridg operates a 109,000-square-foot state-of-the-art manufacturing facility focused on semiconductor-based processes for smart sensors, photonic technologies, and next-generation integrated devices.
Producing Evercell power cells in the volume required to respond to this demand is a major challenge that Bridg is uniquely positioned to help solve. To accelerate construction of new facilities specifically designed to mass-produce the Evercell devices, an international equity firm, Castlepines Corporation, has agreed to provide financing and other services through the investment of its own and partners' equity in major assets for secure, long-term yields.
Examples of expected performance for first-generation Evercell production devices:
5-μW device
34 mm x 34 mm x 1 mm
1.2-V output
4.2-μA continuous current
480-nW device
30 mm x 30 mm x 0.2 mm
1.2-V output
400-nA continuous current
960-nW device
50 mm x 75 mm x 0.1 mm
1.2-V output
800-nA continuous current