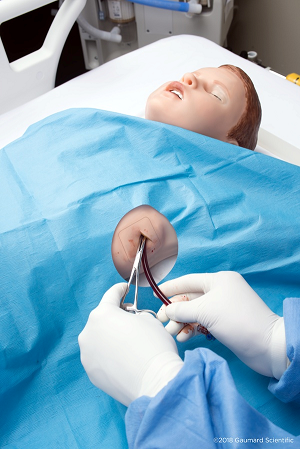 Source: Gaumard Scientific Company
A wireless, tetherless mobile pediatric patient simulator launched by Gaumard Scientific of Miami, Fla., is designed as a training tool to practice common tests and procedures, and to improve clinicians' interactions with children.
The Pediatric HAL system supports a broad range of real patient monitors and sensors and includes active robotics, allowing the device to replicate nearly a dozen facial expressions. Much like the real thing, it talks, blinks and even cries. As with a real child, students or professionals can give it needle injections, take its blood, prick its finger to take a glucose reading and monitor it via ECG, pulse oximetry.
Emergency CPR and even invasive procedures, such as insertion of chest tubes and tracheotomies, can be practiced repeatedly with the Pediatric HAL so that clinicians are ready for real emergencies and unusual clinical events.
Pediatric HAL is intended to set a new standard for training across the pre-hospital, transport, emergency, nursing, and intensive care settings.