Brisbane, Australia-based M3dicine has unveiled an artificial intelligence (AI)-enabled electronic stethoscope. Stethee™ can be used like a traditional stethoscope to auscultate patients, but to also amplify, filter and record sounds, as well as to analyze the sounds with an accompanying smartphone app. Three versions are specifically indicated for clinical use, veterinary applications and for medical education and research.
The company's Aida AI software powers the Stethee app, which is capable of providing insights about the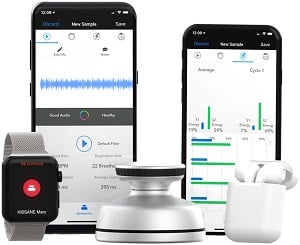 Source: M3DICINErecorded sounds and can generate a biometric signature based on the collected data. The app also stores the location and weather data with each reading, which can help correlate the presence of pollen or pollution levels to something reported by the device.
The system captures clinical information in 20 seconds for analysis by Aida. As recordings can be shared with other healthcare professionals, the Stethee offers a useful tool for clinicians working in remote areas, as recordings can be shared with other healthcare professionals worldwide.
Since 2015 M3dicine has worked closely with: designers and engineers from MIT, clinical experts from the Mayo Clinic, Texas A&M University and cardiologists, nurses and allied health professionals from the UK, Malaysia, Singapore and Australia. The entire development process of the Stethee System has adhered to the highest international design and safety standards and those of the U.S. Food and Drug Administration.
M3dicine has signed exclusive agreements with Korea Telecom for the distribution of Stethee Pro for telemedicine projects into a number of developing countries and an exclusive distribution agreement with Cargill Korea for Stethee Vet to veterinarians in South Korea.
Now available online for pre-order from stethee.com, units will begin shipping late February. Stethee Pro and Stethee Vet are available for $499. Stethee Edu for education and research will be available summer 2018. Advanced AI-driven analytics and insights are available through Stethee Central, a subscription based web portal. Stethee Pro and Stethee Vet App will be available for download from the Apple Store and Google Play store.