The venerable stethoscope has long been a versatile tool for diagnosing various ailments. Placed over the heart, the device can be used to decipher cardiac sounds and function, and it can also be used to listen in on the performance of lungs and intestines. But the tool has been of no value in determining brain health — until Stanford University researchers engineered a brain stethoscope.
Stanford neurologists collaborated with a specialist in computer music to develop a brain stethoscope — a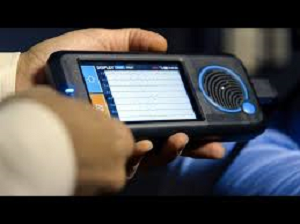 Source: Stanford Universitysonification algorithm that translates the brain's electrical activity into sounds. The technology can be used by nurses, medical students and other non-specialists to detect silent epileptic seizures, which occur without manifesting physical convulsions.
Detecting these episodes is a time-intensive process requiring a trained technician to place sensors on a patient's skull to record the brain's electrical activity, make a recording and send it to a neurology specialist for analysis. Hours may have passed by the time the diagnosis is finalized.
Inspiration for the brain stethoscope came to a Stanford neurologist after watching Kronos Quartet perform a piece of music based on data recorded by a scientific instrument aboard the Voyager space probe. Realizing something similar could be done with brain waves, he sent some data files to a professor of music, who used brain-wave data to modulate the singing sounds of a computer-synthesized voice. The audible transition from non-seizure to seizure was easily recognized by the neurologist.
But could non-specialists hear the difference between normal brain activity and a seizure? The researchers collected 84 electroencephalograms (EEGs), 32 of which included either a seizure or some features typical of one. These samples were converted into music using the algorithm and were then played for 34 medical students and 30 nurses.
Despite having no training in the diagnosis of epilepsy, medical students and nurses were remarkably good at discerning seizures and seizure-like events from normal brain waves. The group accurately detected seizures more than 95 percent of the time.
The research is published in Epilepsia.