NETGEAR®, Inc., a San Jose, California-based provider of networking devices that power today's smart homes and small businesses, has been named a CES® 2018 Innovation Awards Honoree for four products.
The NETGEAR honorees were evaluated on their engineering, aesthetic and design qualities, intended use/function and user value, unique/novel features and how the design and innovation of the product directly compares to other products in the marketplace.
The four recently announced by the Consumer Technology Association, the owner and producer of the CES exhibition, include:
•Arlo Pro Honoree: Arlo Pro 2 Wire-free Security Camera
Arlo® Pro 2 builds upon the award-winning features which made Arlo Pro the world's top-selling security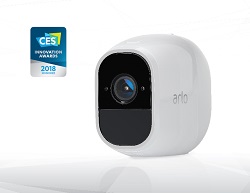 Source: NETGEARcamera with even more great features to better address customer needs. Arlo Pro 2 keeps an eye on your home while you're away in brilliant 1080p HD quality and can be installed anywhere, indoors or out, as it is 100 percent wire-free and weather-resistant. This latest Arlo camera also includes rechargeable batteries which are removable, 2-way audi, and a 110-decibel siren. With night vision, advanced motion detection, and both activity zone and sound based alerts, you can rest assured you will catch every moment, even if you are not home. Keep seven days of free cloud video recordings or upgrade to 24/7 Continuous Video Recording to review any minute of any day. You can purchase an Arlo Pro 2 Security Camera System with two cameras and a base station starting at an MSRP in the U.S. of $479.99, or a single Arlo Pro 2 add-on camera for just $219.99.
•Arlo Security Light Honoree: Arlo Security Light
Making its market debut on November 8, the Arlo® Security Light is a 100% wire-free, smart-controlled, and weather-resistant LED light that helps improve outdoor safety by alerting you when something's happening around your home. Illuminate your front porch, backyard and other areas of your home with customizable lights. Personalize your light for specific situations by adjusting the colors and patterns (floodlight, spotlight, flashing) from anywhere using the Arlo app. Automate lights to turn on and off on a schedule to give the illusion that you're home while you're out of town. Arlo Security Light and Arlo security cameras work together for added home safety and security. You can also connect your Arlo account to IFTTT-compatible devices to create a series of custom automations. For even easier management, you can use the Arlo Skill for Amazon Alexa to turn your Arlo Security Light on and off with just a simple voice command. Arlo Security Light will be available in early 2018.
•Nighthawk® LTE Mobile Hotspot Router Honoree: Nighthawk® LTE Mobile Hotspot Router
The Nighthawk® LTE Mobile Hotspot Router is the first 5G Evolution-capable mobile hotspot router in the U.S., providing incredibly fast download speeds up to 1 Gbps for downloading, streaming and media sharing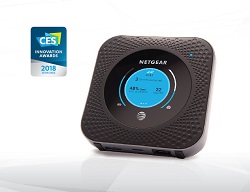 Source: NETGEARso that everything you do at home can now be done virtually anywhere you go. The perfect travel companion, it lets you connect up to 20 WiFi devices, so you can connect your smartphone, laptop and tablet while streaming your favorite movies, listening to music, or live gaming. When you reach your destination, you can offload data to external WiFi or Ethernet networks to save on data without sacrificing your connection's security. You'll get up to 24 hours of battery life and can also use JumpBoost to charge your smartphones and small portable USB devices without an electrical outlet. Parental controls enable you to filter content or websites by each connected device. The Nighthawk LTE Mobile Hotspot Router is available in the U.S. exclusively from AT&T for only $49.99 for a limited time when purchased with a 2-year contract.
•NETGEAR for Business Insight App Honoree: NETGEAR for Business Insight App
The NETGEAR Insight™ solution is a revolutionary new way to instantly discover, configure and continuously monitor and manage your network of NETGEAR WiFi access points, switches and storage devices. Insight is an industry first – offering plug-and-play set up and management of your small business network from an easy-to-use mobile app. The new NETGEAR Insight solution is the answer to the once tedious setup and configuration of devices either in individual device GUI silos or via overwhelming device management tools created for complex enterprise networks. Insight changes the paradigm with its simple multi-device configuration and cloud-based remote access to empower small businesses to manage devices from anywhere. The NETGEAR Insight app is free to download from the Apple® App Store℠ and Google Play™.
"NETGEAR takes pride in being recognized by the CTA for this ground-breaking app that enables small business professionals to keep a watchful eye on their network from the palm of their hand from anywhere in the world," said Richard Jonker, vice president SMB product lines for NETGEAR. "Insight is a simple, yet, informative app that provides business owners or their designated IT staff with the capability to monitor the status of their network and ReadyNAS remotely from an iOS or Android smart phone."
CES 2018 Innovation Honoree will be on view in the Innovation Awards Showcase at CES 2018 from January 9-12 in Las Vegas, Nevada.