The Urban Mine Platform prevents the flows of precious and base metals, and critical raw materials in products in use and throughout their journey to the end of life.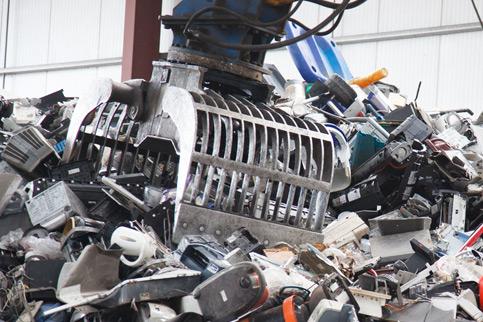 Expert organizations have united to create the first European database of valuable materials available for 'urban mining' from scrap vehicles, spent batteries, waste electronic and electrical equipment, and mining wastes. Source: WEEE Ireland
This database reveals the number of valuable materials recovered or lost in the EU's scrap vehicles, batteries, computers, phones or gadgets, applicants or other high tech products that are discarded annually, which is 18 million tons total, almost the weight of 3 million African elephants.
The EU, Norway and Switzerland generated around 10.5 million tons of waste electrical and electronic equipment (WEEE) in 2016, about 23 percent of the world's total electrical waste. In addition, 2 million tons of batteries and between 7-8 million tons of EU vehicles reach their end-of-life annually. All of this waste represents a source of secondary critical raw materials (CRMs).
The Global e-Waste Monitor reported that the world's 44.7 metric tonnes of e-waste in 2016, not including cars, contained over $67 billion worth of precious metals and other high-value materials.
The Urban Mine Platform contains data for elements and materials in high abundance in the waste products. These materials are mainly base metals, precious metals and critical raw materials.
The charts offer detailed data and market intelligence on many things. This includes the number and type of products placed on the market, in-stock and generated as waste, compositions of key components, materials and elements in batteries, electronic and electrical equipment (EEE) and cars. It also contains information on waste flows, including amounts collected, estimate for small batteries and EEE in unsorted municipal solid waste, exported used cars and the number of cars, batteries and EEE of unknown whereabouts.
The ProSUM consortium says that urban mining to recover valuable CRMs from wastes is vital for securing ongoing supplies for manufacturing and limit dependence on non-EU suppliers.
The project partners created over 800 source documents and databases. It contains all data available on e-waste for the EU, Switzerland and Norway.
"Three years in the making, this consolidated database is the world's first 'one stop shop' knowledge data platform on CRMs in waste products — easy to access, structured, comprehensive, peer-reviewed, up-to-date, impartial, broad in scope, standardized and harmonized, and verifiable," said Pascal Leroy, secretary general of the WEEE Forum, a Brussels-based, not-for-profit association and the ProSUM project coordinator.
"If all of the EEE in stock in households, businesses and public space was shared out between each EU28+2 inhabitant, each person would own close to 44 EEE products plus another 12 (energy saving) lamps and 33 light fittings, which are counted separately," the report says. "In addition, there is 0.50 vehicle per person in the fleet. In vehicles, electronics and other applications, there are another 40 batteries in stock per person."
Each EU citizen would own 250 kg of electronics along with 17 kg batteries and almost 600 kg of cars.
The report says that a smartphone contains around 40 different critical raw materials, with a concentration of gold 25 to 30 times that of the richest primary gold ores. Mining discarded high tech products produces 80 percent less carbon dioxide emissions per unit of gold compared with primary mining operations.
ProSUM has shown that more products that are being thrown away have precious resources. The Urban Mine Platform makes it possible for people to see the stocks and flow of these products.
"Until now, data on such critical raw materials have been produced by a variety of institutions, including government agencies, universities, NGOs, and industry, with the information scattered across various databases in different formats and difficult to compare or aggregate and often representing an outdated snapshot for a certain year only," said Jacob Huisman of the United Nations University, and ProSUM Scientific Coordinator. "The ProSUM effort helps remedy that problem, and enables the identification of so-called 'hotspots' — the largest stocks of specific materials."
The product trends affect the raw materials in the Urban Mine where plastics and aluminum content are increasing, copper and gold are stabilizing and printed circuit board tonnages are in decline, for example.
The report points to a sharp jump in the EU, Switzerland, and Norway's battery usage since 2000, with 2.7 million tons expected to be put on the market in 2020. This is up roughly 1.7 million tons in 2000.
The fate of only half of the estimated 2 million tons of batteries discarded in 2015 is known and 90 percent of them are lead-based. Europe's end of life vehicles (ELV) represents a large source of secondary base metals like steel, aluminum and copper.
Cars also contain large amounts of critical raw materials due to the electronics, as well as alloying elements used in steel, aluminum and magnesium. There are not a lot of electric cars that have reached the end of life, but with sales rising, it is important to keep track of the secondary raw materials that are used in these cars.
More than 40 percent of registered cars are of "unknown whereabouts." This is a gap in attributable partly to unreliable data on used cars that are traded within the EU, unreported recycling and exports beyond the EU.
This project is also gathering information about resources that are available in mining waste, which deposits are commonly large but have a low metal grade.
This project's outcomes embedded in the European Commission's (EC) Raw Materials Information System (RMIS) to create a more comprehensive and structured repository of knowledge that is related to primary and secondary sources in the EU.
Manufacturers can use this database to gain confidence about the future of recycled raw materials. Recyclers will have better intelligence about the changes in product types and material content which impact on their business and provide future recovery potential. Many industries will be able to be more confident in the recycling and reuse of raw materials. Researchers and policymakers will have access to this database to inform themselves.