Oledcomm Corporation redefines the standards of connectivity and internet access with MyLiFi®. Winner of two CES Innovation Awards 2018 in the Tech for a Better World and Smart Cities categories, MyLiFi® is a LED lamp offering an ultra-fast, secure and radiowave-free connection.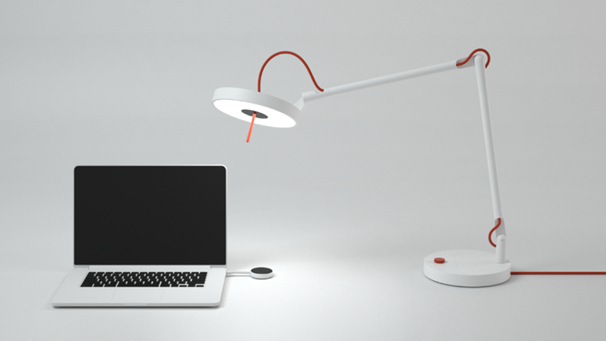 MyLiFi lamp. Source: Oledcomm
Li-Fi (light fidelity) is a new technology that allows mobile devices (and other connected objects) to connect to each other by using LED lights. Li-Fi transmits data by modulating the light signals from an LED light bulb. Of course, this process is invisible to the human eye. Light signals are received and converted into data by a dongle connected to the device.
This revolutionary technology, created in 2005 by a team including Suat Topsu, President of Oledcomm, had been used for B2B purposes such as helping blind people navigate public transport systems, transmitting medical information in hospitals, and measuring travel times in supermarket aisles. But now Li-Fi technology is moving into homes and offices as a revolutionary new form of connectivity that is ultra-fast, secure and works without any radio waves.
"Just as clean energies are displacing fossil fuels and propelling us towards a world of responsible innovation, light is now replacing radio waves to provide a safe, a people- and eco-friendly internet connection," said Benjamin Azoulay, CEO of Oledcomm. "MyLiFi® marks the start of a new era in connectivity. It's the sense of history!"
An LED light bulb uses up to 80 percent less energy than an incandescent light bulb. Li-Fi is a more environmentally friendly choice – MyLiFi® uses only 13.5 watts of energy, as compared to 20 watts for a Wi-Fi router.
MyLiFi revolutionizes internet access and provides controlled access to families, unprecedented confidentiality to professionals, a lag-free gaming experience and beneficial uses for hospitals.
Some features include:
Internet through light
Far faster than Wi-Fi
No radio or electromagnetic waves
Ultra-secure
Wireless technology
Imperceptible signal
Plug and play
General public and professionals
Digital detox feature
Light therapy
Green technology
Color temperature and density
Customized lighting ambiance
Controlled via a web and smartphone app (IoS and Android)
MyLiFi is perfect for users that wish to benefit from unlimited bandwidth, such as young parents willing to choose the digital moments of their family lives.
MyLiFi is symbolic of a new generation of parents who value their connections, both digital and in real life. The MyLiFi lamps can be managed through a web/smartphone app that allows families to precisely choose their connected moments and schedule their own "digital detox" offline moments, using an interactive calendar.
About Oledcomm
Oledcomm is a French company and world leader in Li-Fi technology. Oledcomm was co-founded in 2012 by Suat Topsu, president of Oledcomm, an academic and researcher and one of the inventors of Li-Fi technology. Today, the company is run by Benjamin Azoulay, pioneer of intelligent light marked by the success of Philips Hue that he had previously launched, and employs 30 people. Based in Vélizy, France, and Léon (Mexico), Oledcomm creates complete solution of Li-Fi such as microcontrollers (modem), photo-receivers (dongles and bridges) and logistic platforms.
Oledcomm received France's Innovative Company Award from the French Ministry of Research and Industry in 2012. In 2013, Li-Fi technology was tested in high-speed trains by SNCF and in the offices of Thalès. That same year, EDF chose Oledcomm for its first Smart City project.