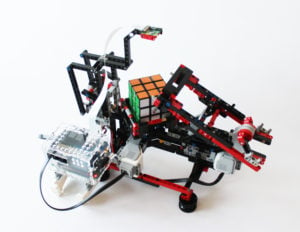 The BricKuber. Source: Dexter Industries
Need help solving your Rubik's Cube? Try a robot.
Specifically, the BricKuber robot built by Dexter Industries, which uses a Raspberry Pi board running a Python program. A dedicated maker willing to put in about three to eight hours build time should be able to make one, too: In addition to the Raspberry Pi, you'll need a standard LEGO Mindstorms EV3 or NXT Kit, at least an 8-gigabyte SD card and eight AA batteries. You'll also need Dexter Industries' own BrickPi robotics kit.
Granted, with a solve time of about two minutes, BricKuber is slower than some of those Rubik-experts out there who can solve the thing in a matter of seconds. But it's still awful darn cool to watch.
The BricKuber's design was inspired by the MindCub3r design for LEGO EV3. It has three major moving parts: a cradle to hold the cube, a "shuffler" arm and an arm that holds a Raspberry Pi camera. The camera takes a picture of each side of the cube, enabling it to create a text map of the color squares. Once it has fully mapped the cube, it uses the "kociemba" Python library to map out the moves needed for a solution. Then it employs its LEGO motors to put that solution into motion.
According to project lead John Cole, getting the Raspberry Pi camera to integrate with the cube was the trickiest part. The founder and CEO of Dexter Industries, Cole began the company in 2010. The BrickPi, the first of the company's LEGO Mindstorms/Raspberry Pi integration kits, was originally launched on Kickstarter.
Incidentally, the toy, invented in 1974 by Hungarian sculptor and architect Ernő Rubik, is the world's top-selling puzzle game — and although its mainstream popularity reached its height in the 1980s, it's recently been making a comeback. Since 2003, an international governing body called the World Cube Association has organized competitions worldwide and kept official world's records.
Want to try to make a BricKuber of your own? Check out these instructions.