Leti, a Grenoble, France-based research institute for electronics and information technologies, will demonstrate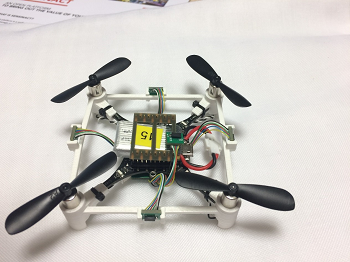 The 360Fusion anti-crash system embedded in a drone. Source: Leti the world's first low-power, low-cost 3D anti-crash, fusion-sensor solution for drones at CES 2018 in Las Vegas, Nev., during January 9-12.
Leti's 360Fusion software, in combination with miniaturized sensors, collects, analyzes and transforms millions of incoming 3D distance data items into relevant, actionable information.
This technology provides consumers and innovative companies with a reliable and affordable integrated anti-crash system. It also ensures safe navigation and enables prompt action in civil-security applications and ensures both fast response and maximum performance for drones in defense uses.
The 360Fusion represents the first obstacle-avoidance algorithm in a dynamic environment based on cutting-edge, laser sensor technology. The ultra-compact and miniaturized design fits into a tiny, mass-market microcontroller, and is 10 times cheaper than comparable systems. The light-weight system — weighing less than 40 g — can be seamlessly integrated into existing drone technologies.
See demonstrations by Leti, List and Liten, all institutes of CEA (Commissariat à l'Energie Atomique et aux Energies Alternatives) Tech at the CEA Tech Village, booth 50653 in Eureka Park.