Leti, a research institute for electronics and information technologies and a subsidiary of the French Alternative Energies and Atomic Energy Commission (CEA), will present at CES for the fourth straight year in 2019. CES 2019 will take place January 8-11 in Las Vegas.
CEA was founded in 1945 and conducts research on energy, defense and security, information technology and healthcare. It employs nearly 16,000 people across nine research centers in France. CEA-Leti is based in Grenoble and specializes in microsystems, biotechnology, nanoelectronics and photonics.
Leti will present Pixcurve, a curved sensor technology that makes it possible to manufacture curved optical components inspired by the human retina. According to the institute, Pixcurve could enable lighter cameras and optical equipment, better smartphone cameras and more.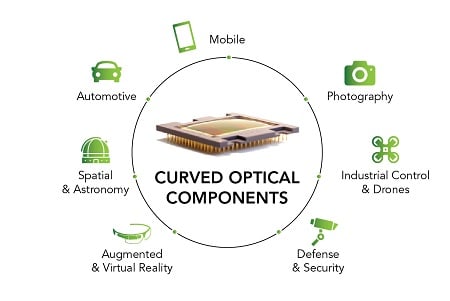 Potential markets for Pixcurve. Source: CEA-Leti
The institute will also present its Sigma Cells battery designed for electric cars and bikes, robots and smartphones. Leti says Sigma Cells is the world's first three-in-one battery solution, integrating an inverter alongside charging and battery management functions. If one of the battery's cells is about to fail, Sigma Cells taps into the best cells still available to prevent total battery failure.
Leti will present at CES alongside other CEA institutes and startup companies. CEA-List, for example, will exhibit Connecting Food, a blockchain-based smartphone app that provides consumers with food quality audit information simply by scanning a product. List will also feature a new computing platform that facilitates the integration of new autonomous vehicle and connected driving features, all while remaining compatible with existing infrastructures.
Leti Announces New Developments at IEDM 2018
CEA-Leti recently presented papers at the IEEE International Electron Devices Meeting (IEDM), held December 1-5 in San Francisco.
In the area of photonics and imaging, Leti announced a breakthrough in CMOS technology that could move 3D sequential integration closer to commercial introduction. Leti's CoolCube technology decreases dice area by a factor of two and provides a 26% boost in power gain. CoolCube also integrates a number of important functions and lowers costs through wire length reduction.
Also at IEDM, Leti announced an extension of its 300 mm silicon-based wafer line. The institute and its industrial partners are looking to target technologies and applications such as:
Memory: phase-change RAM (PCRAM), oxide-based resistive memory (OxRAM) and conductive-bridging RAM (CBRAM)
Vertical image sensors and integrated photonics
Power electronics, such as insulated-gate bipolar transistors (IGBT)
Quantum computing and edge AI
3D wafer-to-wafer and die-to-die bonding
Finally, Leti and Silvaco Inc. announced a three-year project to create innovative and unified Simulation Program with Integrated Circuit Emphasis (SPICE) models for the design of advanced circuits using nanowire and nanosheet technologies. The two groups will work to develop Leti-NSP, a predictive and physical compact model. The model will leverage SmartSpice, Silvaco's parallel SPICE simulator, and Utmost IVTM, Silvaco's database-driven environment for characterizing semiconductor devices.
For more information, visit CEA-Leti.