Automotive supplier Magna will present its EtelligentDrive systems at CES 2018 in Las Vegas, Nev., during January 9-12, 2018. The company's e1 demonstration concept vehicle will be used to demonstrate different electric-drive (e-drive) concepts and systems and to showcase Magna's vehicle integration capabilities. The e1 system consists of one highly integrated e-drive system on the front axle and one on the rear axle with two electric motors (e-motors).
With this configuration, the demo car achieves superior longitudinal and lateral dynamics combined with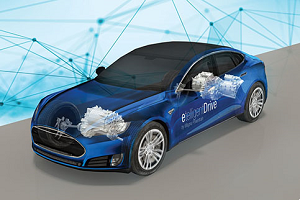 Source: Magnaexcellent vehicle stability and improved safety. Each e-drive system in the demo vehicle uses 140-kW motors, adding up to an overall performance of 420-kW peak. The e-motors are combined with a single-speed reduction-gear transmission and an inverter into a compact package.
Magna's electrified powertrain capabilities include key components for modern e-drive systems: e-motor, gearbox, inverter and control software that can be easily integrated into vehicles. The solutions range from products for 48-volt mild hybrids to highly integrated e-drive systems for battery electric vehicles.
In 2009, the company announced a vehicle-development partnership with Ford Motor Company to introduce a zero-emission lithium-ion battery electric vehicle (BEV). This venture developed the Ford Focus BEV, which entered the market in 2011 and is still in production. Magna provides the e-motor, electronic control module/inverter and the transmission for this vehicle.
Since 2012, Magna has supplied Volvo with the electrified rear axle drive system (eRAD) featured on the Volvo V60 and S60 plug-in hybrid models. Magna's eRAD system offers multiple hybrid driving modes while also adding electric all-wheel-drive capability.