A bionic hand inspired by the one worn by Luke Skywalker of Star Wars fame has replaced the conventional prosthetic used by Jason Barnes, a 28-year old musician who lost part of his right arm.
The older device is controlled by electromyogram sensors attached to residual muscles. Programmed modes are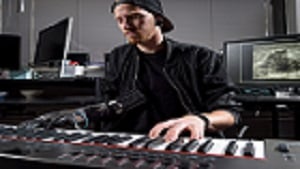 Jason Barnes plays the piano with a new prosthesis that is driven by ultrasound. Source: Georgia Institute of Technology controlled by flexing or contracting the forearm muscles, but the sensors aren't very accurate and do not provide for very precise finger movements.
Georgia Institute of Technology researchers sought to improve finger control and dexterity by attaching an ultrasound probe to the arm.
When the user tries to move his amputated ring finger, the muscle movements differ from those seen when he tries to move any other digit. The researchers fed each unique movement into an algorithm that can quickly determine which finger Barnes wants to move. The ultrasound signals and machine learning can detect continuous and simultaneous movements of each finger, as well as how much force he intends to use.
Now Barnes has regained sufficient motion control and dexterity to play the piano again. Watch him perform Beethoven's Ode to Joy with his bionic hand.
IEEE Spectrum offers more details on this development and an interview with Professor Gil Weinberg of the Georgia Tech College of Design.