Researchers from the University of California have just received a grant to further explore the impact that virtual reality could have on stroke victims' recovery. When someone suffers a stroke, the brain becomes damaged and many of the neurons needed to control movement can be either damaged or missing – making it difficult for patients to move their limbs.
Typically, therapists will work with the patients and focus on arm, hands and finger movements to reactivate damaged neural pathways.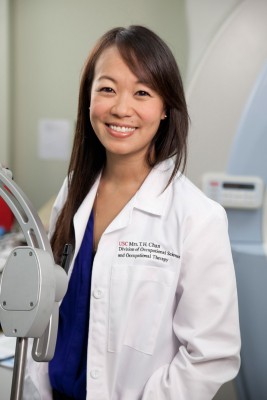 Sook-Lei Liew (Image Credit: John Skalicky)
However, USC researcher Sook-Lei Liew, thinks that recovery treatment could lie in the growing field of virtual reality by creating a brain-computer interface for the treatment of stroke survivors – and she just received $150,000 Innovative Research Grant from the American Heart Association to find out if she's right.
"To regain movement ability after a stroke, survivors need to strengthen pathways from the brain to the muscles of the hand," says Liew. "This is difficult for people with severe motor impairments because they can't see their hand move when they try to move it."
Liew developed REINVENT, "Rehabilitation Environment Using the Integration of Neuromuscular-based Virtual Enhancements for Neural Training," which uses virtual reality and brain and muscle sensors to show hand movement in the virtual world when the patient has used the correct brain and muscle signals – even if the patient cannot actually move his or her hand.
REINVENT is a portable and cost-efficient therapy method, which Liew thinks can be used in patients' hospital rooms or for long-term use, if necessary. "REINVENT and other portable home programs allow the patients to augment traditional therapy with additional practice by themselves in a motivating environment even if they have little to no movement," says Liew.