An open-source 3-D printed fingertip with a human-like sense of touch has taken first prize in an international Soft Robotics competition sponsored by Harvard University.
The device, named TacTip, has been under development for a decade at the Bristol Robotics Laboratory (BRL), a collaborative partnership between the University of the West of England and the University of Bristol in the U.K.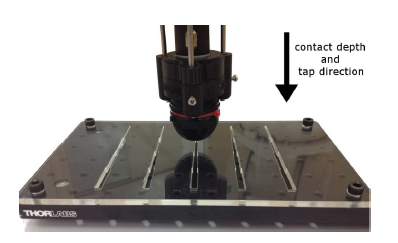 TacTip 3-D printed tactile sensor. Credit: University of Bristol The 3-D printed optical tactile sensor meets the need for an inexpensive yet robust, versatile sensor to give robots an artificial sense of touch, researchers said. As demonstrated in this video, the sensor has a unique design in which a webcam is mounted inside a 3-D printed soft fingertip to track internal pins that act like touch receptors inside a person's fingertips.
The design makes it inexpensive to build and easily customizable, its developers said.
"An artificial sense of touch is the key for enabling future robots to have human-like dexterity," said Dr. Nathan Lepora, senior lecturer in robotics at BRL and leader of the Tactile Robotics Team. "Applications of artificial touch span from the future robotization of manufacturing, food production and healthcare, to prosthetic hands that restore a sense of touch."
The TacTip features a biomimetic design inspired by the skin structure on a human finger. As explained by researchers, when the human fingertip makes contact with an object, deformation in the epidermal layers of the skin is detected and relayed by its mechanoreceptors. The TacTip device seeks to replicate this response by substituting papillae with internal pins on the inside of its skin.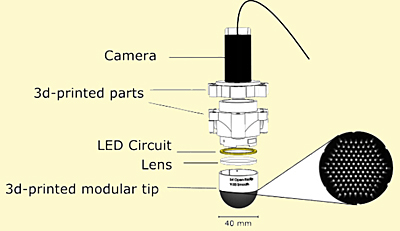 Components of TacTip tactile sensor. Credit: University of Bristol The pins deform when an object is contacted, and are then tracked with an internally mounted USB camera. The TacTip tip is made as one piece with multi-material 3D printing. The shape, layout and pattern of pins can be modified to tune the morphology to a desired application, whether it be as a stand-alone tactile sensor or an integrated part of a robotic hand.
The device took top honors in Soft Robotics Research competition sponsored by Harvard University's John A. Paulson School of Engineering and Applied Sciences.