Smart tech is everywhere, from your phone to wearable technology. Smart homes and smart home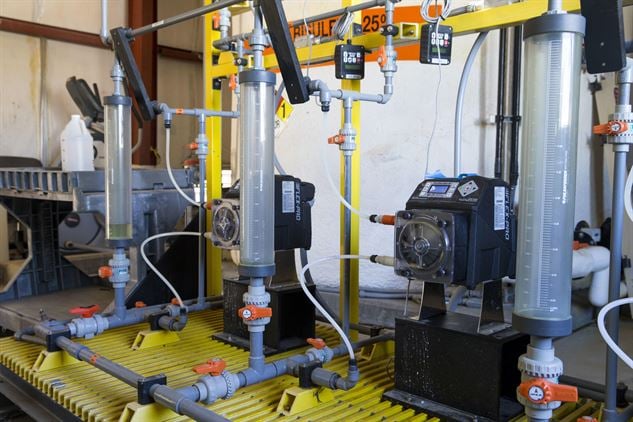 A water treatment plant that would be improved with the addition of any of these smart water treatment devices. (Source: U.S. Marine Corps photo by Lance Cpl. Maritza Vela)devices are quickly becoming popular among homeowners. There are the obvious smart home technologies, like lights you can control from your phone when you are not home. But there are also smart tech devices for areas of your house that you wouldn't think could use smart technology, including the water treatment system. Below are a few examples of these new technologies that can make your water treatment system into a smart home device.
1. HydroLink Plus Water Monitoring System
Water softeners and refinement systems are often ignored or forgotten in the home. Low salt levels, bridging and blockage can sometimes go unnoticed for weeks. This can cause a lot of damage to the appliance and your home. Eco Water Systems has created the Hydrolink Water Monitoring Systems that makes it super easy for homeowners to track the health of their water system and correct problems as soon as they happen. Hydrolink Plus is a conditioner/refiner/filter that is Wi-Fi connected. It sends the user texts or emails when there are any of nine issues with the system. Users can also view the system's status at any time online. The Plus also can be set up to alert a local EcoWater professional if a service is needed.
2. BioGill Water System Technology
The BioGill Technology is made to make water treatment systems highly effective, low cost and energy efficient. BioGill is a combination of smart technology and natural biological processes to remove contaminants from water. The technology's core is a nano ceramic gill that provides support to grow a thick and active treating biomass. The microorganisms are decomposers and recyclers that turbo-charge nutrient removal from the water system. This system is ideal for low energy, low sludge onsite treatment of sewage, nitrogen soluble BOD and COD removal from food and beverage wastewaters, and for improving pond water quality in aquaculture.
Flo is a device that can detect and stop leaks in pipe and water systems in homes. Flo monitors all the pipes in a house, from the toilet to the pipes in the foundation. Flo is powered by FloSense™ and uses smart technology to learn about the home's water behavior so it can detect abnormalities in water usage. Flo will send alerts to the user's phone in the form of texts, emails or phone calls when it detects a problem with the water. Users can shut off the water, get troubleshooting tips or contact a plumber through the Flo app on their phones. Flo's Microleak™ technology runs proactive tests to detect problems with the pipes and water systems. Users can view their water consumption patterns on the app. Flo can even automatically turn the water off if it detects immediate danger.
FREDSense is a combination of biology and engineering that can detect chemicals in your water. This system is a biosensor with an electrochemical output. FRED stands for Field Ready Electrochemical Detector. FRED can detect trace chemicals in even a small water sample. It can detect almost any chemical that interacts with a living organism. There are two parts to the FRED system, a cartridge for sample addition containing the components needed to run the test and a portable detector which measures and reports results. It produces a quantifiable electrical signal that tells users how much of a compound is in the water. The detector measures and transmits results over Wi-Fi to the user's computer.
These technologies are perfect for updating your water treatment systems. Not only are these devices cool because they are smart home technology, but they are also incredibly helpful for keeping your water treatment system working and healthy. Are you considering putting any of these devices in your home? Let me know in the comments!