Electrical component manufacturer Elexa has officially launched Guardian, the first water leak prevention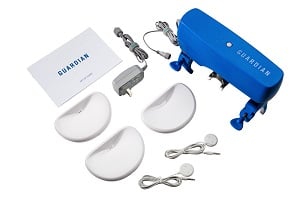 Source: Elexasystem that does not require tools for installation and allows users to "set it and forget it." The Guardian Water Leak Prevention System consists of an autonomous valve controller and individual leak detectors with a 15-year battery life for placement around the house, providing leak detection by sensing water on both the top from drips and the bottom from flooding.
Guardian will be presented at CES during January 9-12 in Las Vegas, in Sands, Halls A-D at booth #43009 and can also be found at the Z-Wave Pavilion in Sands at booth #41717.
Water damage affects more households than fire and theft combined in the U.S. each year, yet the vast majority of homes are not equipped to mitigate or prevent potential damage. Most of the damage comes from faulty appliances, burst pipes and human error.
Guardian prevents water damage from the very first drop and even shuts off water in the event of an earthquake with built-in vibration sensors. Connected via the Guardian iOS and Android app, users can check the status of detectors, switch the valve controller on and off and check the temperature, ensuring around the clock visibility even outside the home.
Guardian's features include:
• Double Leak Detection - Water-resistant detectors, placed throughout the house, sense water leaks from both the top and bottom ensuring both drops and flooding are detected.
• 100 Percent DIY Installation - A staunch commitment to creating a simple, one-size-fits-all solution has ensured that Guardian is easily installed by homeowners in minutes with zero tools and zero professional installation required.
• Hassle-free Installation and Maintenance-Free Longevity - Completely retrofittable, Guardian's valve controller adjusts to the height and size of the valve at hand. Once installed, it is truly maintenance-free, performing weekly automated self-checks to ensure all systems are working accurately and protecting homes 24/7.
• Stand-Alone Device - Since the internet is only required for off-site control and app notifications, Guardian is not dependent on Wi-Fi or electricity to function properly.
• Unique Water Detectors - Guardian's detectors are water-resistant, offer a 15-year battery life and include vibration sensors to alert users if the detector has been moved or of an earthquake. In addition, all devices have a communication range of up to 1000 feet.