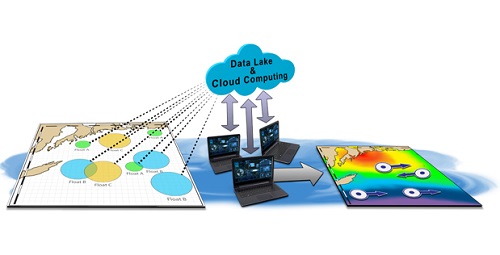 Source: DARPA
The U.S. Defense Advanced Research Projects Agency (DARPA) is envisioning an "Ocean of Things" program involving thousands of floating sensors forming a distributed network.
The program was announced in a December 6 press release. DARPA based the concept on the internet of things, which uses smart sensors to track events and situations in real-time. A network of low-cost floating sensors would make this possible on the open oceans.
According to DARPA, each "smart float" would contain a suite of commercially available sensors to collect environmental data — such as ocean temperature, sea state and location — as well as activity data about commercial vessels, aircraft and ocean fauna moving through the area. The floats would transmit data periodically via satellite to a cloud network for storage and real-time analysis.
"The goal of the program is to increase maritime awareness in a cost-effective way," said John Waterston, program manager in DARPA's Strategic Technology Office (STO). "It would be cost-prohibitive to use existing platforms to continuously monitor vast regions of the ocean. By coupling powerful analytical tools with commercial sensor technology, we plan to create floating sensor networks that significantly expand maritime awareness at a fraction of the cost of current approaches."
DARPA has scheduled a Proposers Day on January 4, 2018, at the DARPA Conference Center in Arlington, Virginia. The agency is soliciting individuals to design intelligent floats made of environmentally-sound materials, as well as develop cloud-based software and analytic techniques to process reported data.