Terraillon, a French developer of connected health and wellness products, plans to showcase smart solutions for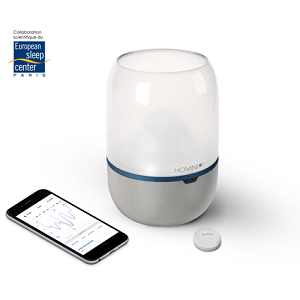 The HOMNI sleep solution. Source: Terraillon health and wellness between January 9-12, 2018, at CES 2018 in Las Vegas, Nevada. Focused on the science of measurement, Terraillon solutions include personal scales for the bathroom, food scales for the kitchen and their smart sleep solution HOMNI.
HOMNI is designed to help users understand and improve their sleep environment. Thanks to the sleep and wake programs developed with the European Sleep Center, HOMNI helps users fall asleep in the best possible conditions with a soothing light, and wake up with a light designed to gently revive. Individual sleep data can be stored in the Terraillon Wellness Coach Sleep app, which includes details on temperature, humidity, sound level, room brightness and complete sleep analysis.
Last October, the group was awarded the prestigious smart and connected award from the Grand Prize of Innovation in Paris. The award recognized the innovation, design and technology of the HOMNI smart sleep solution.
In addition to HOMNI, Terraillon will present their entire selection of health and wellness products, including R-LINK, the world's thinnest smart bathroom scale, and NutriSmart, the first connected kitchen scale that calculates the nutritional composition of the food being weighed.