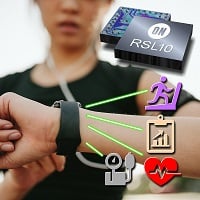 The RSL10 series. Source: ON SemiGlobalfoundries and ON Semiconductor have introduced a family of system-on-chip (SoC) devices based on GF's 55nm low power extended (55LPx) RF-enabled process technology platform.
The RSL10 products are based on a multi-protocol Bluetooth 5 certified radio SoC capable of supporting wireless functionalities in the Internet of Things (IoT) and connected health and wellness markets.
The devices are designed to work with wearables by offering lowest power consumption in deep sleep mode and peak receiving mode, enabling ultra-long battery life and supporting functionalities such as firmware over the air updates. The chips could also be used for edge-node devices such as smart locks and appliances.