Chris Canucciari's Banking on Bitcoin is a 2016 documentary film exploring the history of the pioneering cryptocurrency. At one point in the film, bitcoin early adopter Nick Spanos hawks the currency to pedestrians on Wall Street, a few dozen feet from the New York Stock Exchange.
"I bought bitcoin," Spanos tells a passerby, "and now I have a third more money than before."
"I'll tell you what," says the woman, laughing. "You call me in a year and tell me how much you have. Then we'll see."
This exchange is a fitting metaphor for bitcoin's history: its price has been widely fluid, and its acceptance and legality are routinely questioned. Mainstream sources believe it to be a scam at worst or a bubble at best. But by all indicators, 2017 might be the year bitcoin grows up and at least flirts with mainstream acceptance.
At around 1:30 UTC on November 29 (8:30 p.m. EST on November 28), bitcoin's price broke the $10,000 threshold after nearing the mark for days. Within hours its price had surged even higher to near $11,000. This is a stunning development, considering its price hit a January low of $800. The cryptocurrency had several volatile moments during the year, but in general, its rise has been little short of meteoric:
January 2017: Hits $1,000 for the first time since early 2014
May 20: Hits $2,000 for the first time ever
August 5: Hits $3,000
September 1: Passes $5,000
September 12: Price plummets to $2,900 after crackdown on illegal exchanges
October 13: Rebound to $5,600
November 6: Price hits $7,300
November 12: Price slumps to around $5,500
November 25: Bitcoin hits $9,000 after weeks of steady growth
November 29: Price tops out at $11,308 as of 14:00 UTC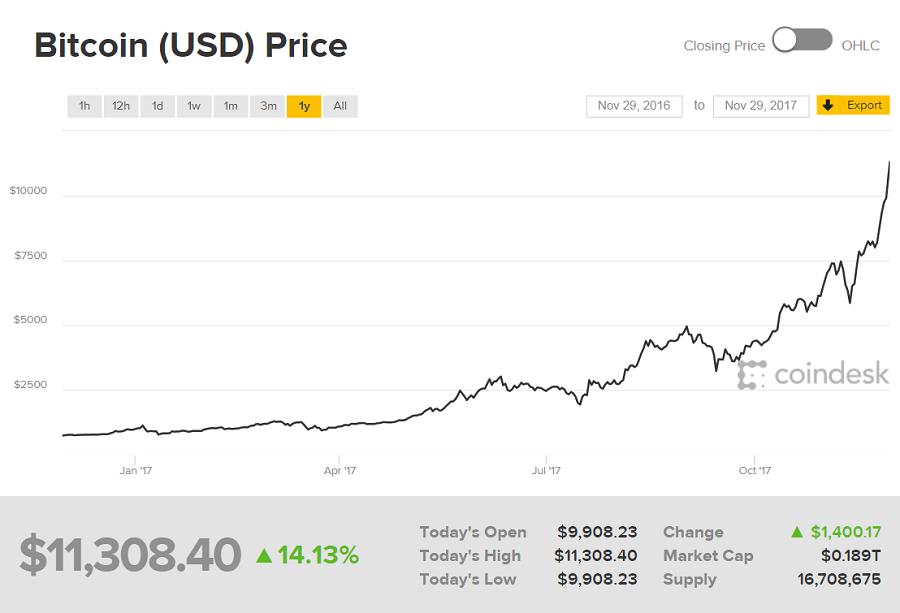 Bitcoin's growth from November 2016 to November 29, 2017. Source: Coindesk
A Bitcoin Bubble? Or Mainstream Breakthrough?
Cryptocurrency advocates believe the $10,000 mark is crucial to bitcoin's mainstream adoption, both in a technical and psychological sense. Just as in "real-world" markets, hitting a major price milestone can boost investor confidence. Many mainstream publications are content to label bitcoin's rise as a classic bubble, however. Bloomberg's Stephen Gandel wrote on November 27 that bitcoin's price-to-earnings ratio is four times that of late-1990s dot-com stocks — the dot-com bubble lasted roughly four years and ended up wiping out almost 50 percent of dot-com companies by 2004. By comparison, if bitcoin's crash ever occurs it could be much more severe than previous tech bubbles.
Even if bitcoin's price hike is a bubble waiting to burst, cryptocurrency may well fill an important niche in future financial markets. Its lack of regulation and oversight, attributes that make many investors and consumers skeptical and anxious, seem more attractive in light of recent successive bank failures and financial crises. The global financial crisis of 2007-2008, the Greek government-debt crisis, the Cypriot financial crisis and others significantly damaged public trust in financial regulations. Hyperinflation in Zimbabwe, which was so severe that the country was forced to print banknotes as large as $1 trillion in 2008, also makes decentralized currency like bitcoin seem more attractive. Bitcoin's surge since mid-November may, in fact, have been influenced by instability related to the November 14 Zimbabwe coup d'état, which may signal another round of hyperinflation woes.
A Look Back at Bitcoin's History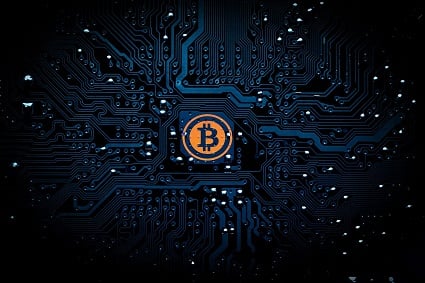 Bitcoin wasn't the first shot at cryptocurrency, but it is the first one that's been fully implemented and works efficiently. Cryptographer David Chaum developed DigiCash, an early form of electronic money, in 1989. Chaum's work inspired an entire generation of "cypherpunks": individuals interested in both cryptography and privacy enhancement. (WikiLeaks founder Julian Assange is one of the more well-known members of this group.)
Throughout the 1990s, many cypherpunks attempted to develop digital currency. Nick Szabo developed bit gold, a decentralized currency that was a direct predecessor of bitcoin, but he never implemented it.
In late 2008, Satoshi Nakamoto – an online figure whose identity has never been positively confirmed – published a white paper on a cryptography message board proposing a digital currency that synthesized ideas put forward by cypherpunks a decade before him. Nakamoto's paper first introduced the idea of blockchain, an open distributed ledger that can host secure transactions between two parties. Nakamoto's bitcoin was not the first proposed digital currency, but it was the first to work efficiently in real-world applications.
Bitcoin was first traded by cryptography enthusiasts, but it soon became more popular with early investors. It gained traction in the wake of successive financial crises, but it experienced several major regulatory setbacks along the way. Early investor Charlie Shrem's company BitInstant was processing around 30 percent of all bitcoin transactions in 2013, but it suspended service that same year due to technical problems. Shrem was arrested in early 2014 and served a year in jail for conspiring to sell $1 million in bitcoin to online users conducting illegal transactions.
Mt. Gox, an exchange that processed 70 percent of bitcoin transactions by late 2013, went bankrupt and lost 850,000 of its customers' bitcoins – worth about $450 million in 2014 – to theft. The failure of Mt. Gox caused a crash in bitcoin's price to around $550 after hovering around $1,000. Its trading price did not recover to the $1,000 mark until early this year.
Waiting Game
Will bitcoin's $10,000 milestone result in wider acceptance? The price spike following the milestone may indicate that investors were waiting on that mark to prove bitcoin's legitimacy. But bitcoin is significantly more volatile than traditional currency and has sometimes fluctuated hundreds or even thousands of dollars within the span of a few days. For now, cryptocurrency advocates are celebrating a victory that may foretell wider bitcoin use in the future.