Lunit, an AI-powered medical image analysis software company, has debuted a new and advanced, cloud-based artificial intelligence solution for real-time image analysis, called Lunit INSIGHT at the Radiology Society of North America Annual Meeting in Chicago.
Lunit's AIs are trained by a vast collection of de-identified clinical data from 18 partner hospitals. More than 1 million well-curated high-quality case images have been used in the research. Using that image data, the AI algorithms are trained to detect specific diseases or radiologic findings, including lung cancer, tuberculosis,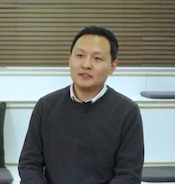 Anthony S. Paek, Lunit CEO pneumonia, pneumothorax, and breast cancer for chest x-ray and mammograms. The first AI model to be unveiled is the chest x-ray solution.
Lunit's chest x-ray solution can locate and identify major chest abnormalities, lung nodules or masses, consolidation and pneumothorax, with a high degree of accuracy: the solution was accurate 97 percent of the time in nodule detection, and 99 percent of the time for consolidation and pneumothorax.
According to the National Lung Screening Trial (NLST), one of the largest clinical trials conducted on lung cancer screening, 26.5% of lung cancer cases were shown to be missed by chest x-ray. Worldwide, more than 1 billion chest x-ray exams are performed every year. Decreasing the proportion of missed cases even by 10% would translate into significant clinical benefit.
Having a tool that can perform a "first pass" at scans can significantly boost the diagnostic performance of its users up to 20 percent, from non-radiology physicians to radiology experts. As the "second reader," Lunit's solutions are focused on augmenting the diagnostic performance level of its users -- not replacing them.
Users upload their medical images online, at Lunit's INSIGHT webpage. AI analysis results appear in just a few seconds. FDA approval for Lunit's chest x-ray and mammography solutions are expected to be achieved by end of 2018.
In addition, Lunit's mammography solution to detect suspicious breast cancer lesions is in its final stages of development. Lunit INSIGHT for Mammography should be released to the public by the first quarter of 2018. Lunit is doing further research in developing solutions for digital breast tomosynthesis, chest CT and coronary CT angiography.