Researchers from the New York University School of Medicine have created an AI-based computer program that can analyze images of lung tumors to detect and specify cancer types. The new system can also find altered genes that affect abnormal cell growth.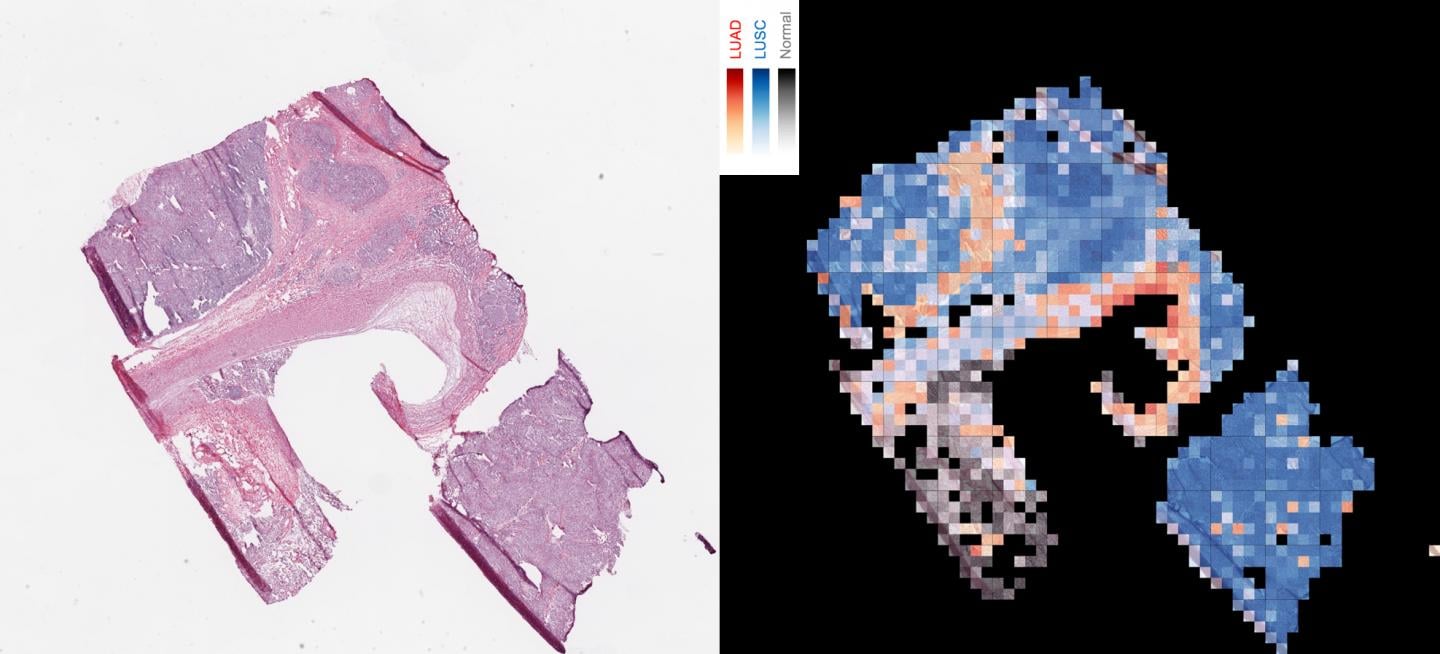 This image shows how an AI tool analyzes a slice of cancerous tissue to create a map that tells apart two lung cancer types, with squamous cell carcinoma in red, lung squamous cell carcinoma in blue, and normal lung tissue in gray. Source: NYU School of Medicine
The program was 97% accurate when distinguishing between adenocarcinoma and squamous cell carcinoma. Unassisted, doctors often struggle to distinguish these two cancers.
The new tool could help doctors determine if there were abnormal versions of six lung cancer genes in the given cells. The program's accuracy ranged from 73% to 86%, depending on which gene it analyzed.
Genetic changes like those detected are a key part of targeted cancer therapies. Current genetic tests to find the changes take up to two weeks to return results, wasting vital time during which the patient could start treatment.
"Delaying the start of cancer treatment is never good," says senior study author Aristotelis Tsirigos, Ph.D., associate professor in the department of pathology at NYU Langone's Perlmutter Cancer Center. "Our study provides strong evidence that an AI approach will be able to instantly determine cancer subtype and mutational profile to get patients started on targeted therapies sooner."
When developing the AI tool, the team created statistical techniques that allow the program to self-improve.
The team trained Google's Inception v3 convolutional neural network to analyze images from the Cancer Genome Atlas during their testing. The Cancer Genome Atlas is a database with images of cancer diagnoses that had already been identified. This testing allowed the team to figure out how well the program can identify and classify normal and diseased tissue.
After testing, the team found that half of the small percentage of tumor images that the AI system misclassified were also misclassified by pathologists. The tool is also promising as a second opinion method for doctors. The AI program correctly identified 45 out of 54 images that were misclassified by at least one pathologist.
"In our study, we were excited to improve on pathologist-level accuracies, and to show that AI can discover previously unknown patterns in the visible features of cancer cells and the tissues around them," said co-corresponding author Narges Razavian, Ph.D., assistant professor in the departments of radiology and population health. "The synergy between data and computational power is creating unprecedented opportunities to improve both the practice and the science of medicine."
The paper on this new technology was published in Nature Medicine.