Philippines' President Duterte has asked China to invest in his country's' telecommunication industry, in an effort to improve the slow data and voice services that have plagued residents for years.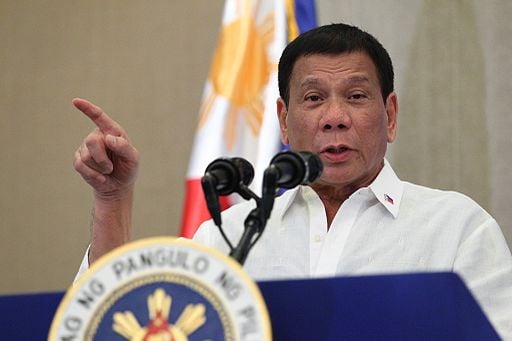 Rodrigo Duterte delivers a message to the Filipino community at a speech this Fall. (Photo credit: Creative Commons)
Last year, the president warned the so-called duopoly providers PLDT Inc. and Globe Telecom Inc. to improve -- or face new competition. Malacañang reported that Duterte offered China the opportunity to operate the third telecom carrier in the Phillipines at a meeting last week with Chinese Premier Li Keqiang.
The Chinese firm that would offer the telecommunication services has not yet been identified. China's foreign ministry did not immediately respond to Reuters' request for comment.
The offer to China came as the Philippine government and Facebook affiliate Pacific Light Cable Network signed an agreement on the "Luzon Bypass Infrastructure" project, which is expected to improve internet connectivity in the country. The project opens the door for an ultra high-speed internet backbone with speeds of up to 100 Mbps throughout the entire country by the end of 2019.

The government signed a landing party agreement with Facebook for the project. The deal reportedly will work like this: The government-owned Bases Conversion and Development and Development Authority will bid out the construction for the infrastructure, which will comprise two cable landing stations on the east and west coasts of Luzon. The Department of Information and Communications Technology will maintain and operate the Luzon Bypass Infrastructure for 25 years, and provide "last mile connectivity" in the country. Facebook would then construct and operate the submarine cable system in the landing stations, providing the company with direct connections from Luzon to Internet hubs in the United States and Asia.