Two scientific research studies published last week show scientists getting closer to diagnosing the degenerative brain disease, chronic traumatic encephalopathy (CTE), in the living. Until now, the disease could only be diagnosed post mortem.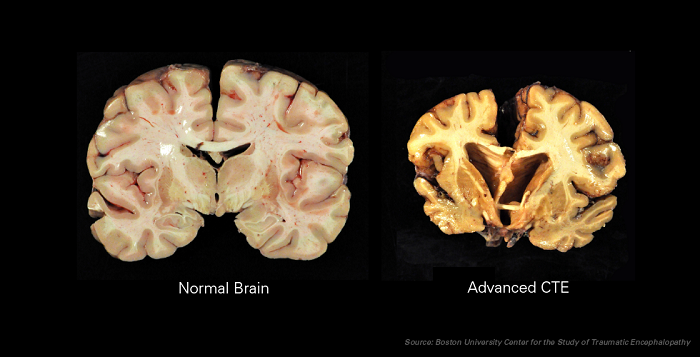 A brain without (l) and with CTE (r)
Scientists have published research indicating they have identified the first case of a living person with the degenerative brain disease, chronic traumatic encephalopathy (CTE). CNN reported that Dr. Bennet Omalu, of the University of California, Davis, has identified the subject of the case as former NFL player Fred McNeill, who died in 2015.
CTE causes Alzheimer's-like symptoms including memory loss and uncontrolled anger. Omalu discovered CTE in professional football players in 2012 using a brain scan that can trace "tau," a signature protein of CTE. The buildup of tau is believed to be caused by repeated concussions.
McNeill was diagnosed while he was alive, and his results subsequently confirmed with autopsy.
The new diagnostic tool, which Omalu helped develop and is invested in, uses a radioactive "tracer" called FDDNP that attaches to tau proteins in the brain. As a result, the tau proteins light up during a PET scan of the brain, and can therefore be identified. While other proteins may also be illuminated, with CTE, tau makes distinctive, specific patterns in the brain.
Researchers are raising money to start a phase 3 clinical trial to continue to test the technology. Omalu told CNN a commercial test could be available in less than five years.
Additionally, Boston University CTE Center researchers announced they have found an increased amount of the protein CCL11 in those with CTE. CCL11 is a protein commonly associated with inflammation, which can be a trigger for this disease, but also of other brain afflictions. Researchers said the findings of this study are the early steps toward identifying CTE among patients suffering from symptoms such as memory loss, depression and violent behavior.