Researchers in the UK have developed a new sensor capable of detecting multiple proteins and enzymes in a small volume of blood. The development could significantly speed up diagnostic healthcare processes.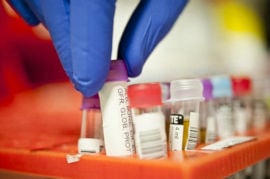 New sensor technology could reduce the need for multiple blood tests. Source: University of York Currently tests to detect the presence of infection or disease require a sample of blood from a patient, which is later analyzed in a laboratory. The presence of particular proteins can give an indication of a health condition and the best course of treatment, but only one type of protein can be identified per sample using conventional techniques. Often additional tests are required, which take more time and add to the cost of healthcare.
Now a team of researchers at the University of York has developed a biosensor that combines light and electricity to detect multiple disease biomarkers in one small sample of blood. The technology could make blood tests more comfortable for patients and enable more rapid processing of results.
The ability to test for a number of proteins and enzymes in a single sample also increases the chances for a successful diagnosis the first time around, researchers said.
"Combining light and electricity in silicon sensors has never been done before," said Dr. Steve Johnson of the University's Department of Electronics. "This exciting new technology provides in-depth analysis of biological interactions and new ways of sensing on the micro-scale." 
Researchers are now looking to test the new technology on urine samples for urinary tract infections, or UTIs, which have a high resistance to antibiotic treatment. If the biosensor can identify biomarkers of the infection and of resistance, it is more likely that the proper course of antibiotic treatment can be prescribed at the outset rather than on repeat visits, which is often the case with UTIs, researchers said.