To diagnose a concussion or other mild traumatic brain injury, a CT scan must be performed. The expensive procedure can eat up valuable diagnostic time while exposing patients to radiation. A device that performs proteomic analysis of a single drop of blood offers a faster, more accurate approach to determining the risk of mild trauma.
The system developed at the University of Geneva measures proteins released from damaged brain cells into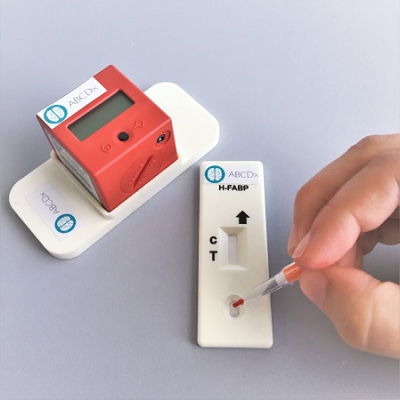 One drop of blood is enough for TBIcheck to diagnose a possible mild brain trauma. Source: University of Genevathe bloodstream. Proteomic analysis was applied to samples from patients and identified four molecules indicating the presence of a brain injury: H-FABP, Interleukin-10, S100B and GFAP. The H-FABP level alone makes it possible to confirm that there is no risk of trauma in one-third of patients admitted after a shock; the rest must undergo a CT scan to confirm the diagnosis.
A portable, rapid diagnostic test called TBIcheck was then developed to make such analysis more accessible. By placing a single drop of blood on the well of a small 5 cm plastic case, the patient knows within 10 minutes whether there is a risk of mild trauma in terms of whether or not the H-FABP level is higher than 2.5 ng/ml of blood. To improve the accuracy of interpreting the results, a small reader, the Cube Reader, can be installed on TBIcheck. It will display the word "positive" or "negative" and send the result to the patient's or caregiver's smartphone via Bluetooth.
The research is published in the journal PLOS One.