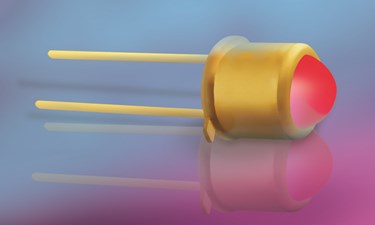 Source: Opto Diode CorporationOpto Diode Corporation introduced a new wide-temperature infrared emitter for night vision devices in aircraft as well as vehicle light markers for cover operations in the military.
The new OD-850WHT also have design improvements for applications involving high temperature industrial photoelectric controls, particularly used in oil refineries, chemical processing plants and power generation applications, among others.
Among others, the device features the following specifications:
· output ranges from 24 to 28 mW
· wide emission angle
· a temperature operating range from -65 to 150° C
· peak emission of 850 nm
· optical half intensity beam angle of 80°
· no internal coatings
With these specifications and features this gallium-aluminum-arsenic LED can operate without heatsinks and without derating to up to 80° C.
For more specifications, parameters and graphs, download the datasheet here.
Opto Diode Corporation (http://www.optodiode.com/) based in Camarillo, California, has a long history of delivering industry-leading photodetectors and LEDs. Available in standard and custom designs, Opto Diode products have supported the photonics industry for over 30 years and earned a reputation for high performance, superior quality and reliability. With the acquisition of International Radiation Detectors (IRD) and the merger of Cal Sensors (CSI), Opto Diode now offers industry-leading performance detectors from the extreme UV to the mid-infrared (mid-IR) regions of the electromagnetic spectrum. The IRD product line detects high energy particles and photons in the UV and X-ray regions. The CSI detectors provide superior sensitivity to discriminate trace gases or detect heat, sparks or flames in the mid-IR spectrum.