Harwin introduced a new series of Sycamore Contacts that are low profile, single piece and without any shell, designed for direct assembly to PCB. Harwin Sycamore uses two terminals to balance on the PCB while the rest of the contact sits in a hole in the PCB. This allows the elimination of the outer shell.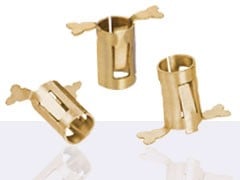 Source: Harwin
The three points of contact improve on existing SMT sockets by ensuring signal continuity. The beryllium copper base material and gold-plating finish offer durability of 500 mating cycles. These contacts are available in tape and reel packaging, making them suitable for high volume, advanced manufacturing systems.
Some of the specifications and features of the contacts are as follows:
Low profile, single-piece SMT socket contacts designed for direct assembly to PCB
Two terminals balance on PCB while rest of contact sits in a hole in PCB
Eliminates the outer shell typical on existing two-piece PCB sockets
Beryllium copper base material offers operating temperature range of -50° to 125° C
Gold-plating finish in combination with beryllium copper provides durability of 500 mating cycles
Tape and reel (1,400 contacts per reel), ideally suited for automated assembly
6 A current rating
0.3 mm maximum height above PCB
Harwin has supplied superior electrical interconnects for over 60 years. Harwin's product offering includes high-reliability connectors, EMC shielding solutions, PCB hardware and industry standard connectors. Harwin has a proven history in military, aerospace and other safety-critical markets. Harwin's industry standard connectors and EMC shielding solutions provide cost-saving remedies in many commercial applications.