Bel Power Solutions and Protection, a Bel group company, announces the 0RCY-F0S10B, a next-generation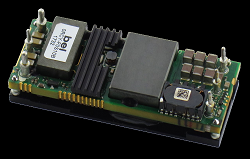 Source: Bel Power Solutionsregulated bus converter with 45-56 VDC input/10.2 VDC (at 49 amps) output and offering up to 500 watts of highly efficient power in an eighth brick footprint. This converter is intended to provide isolation and step down to generate a regulated intermediate bus for the purpose of powering non-isolated point-of-load (POL) converters.
The isolated DC-DC converter incorporates digital control, efficient secondary side synchronous rectifiers and a thermal management system. The thermal design guarantees efficient dissipation and improved thermal performance. Equipped with standard protection features like under voltage lockout (UVL), over temperature protection (OTP), over current protection (OCP), short circuit protection (SCP) and over voltage protection (OVP), Bel Power units also come standard with primary side on/off and secondary side Power Good signal indicators. The output of the converter includes the droop function, which allows the modules to operate in parallel with high output current sharing precision.
The 0RCY-F0S10B is IPC-9592B Class 2 and Category 2 rated as well as IPC-9592B derating compliant. Models all come with UL/CSA/IEC 60950-1, 2nd +A2 version (pending) approvals.
The 0RCY-F0S10B is currently in stock with both Mouser and Digi-Key.