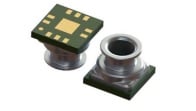 The LPS33HW. Source: STMicroelectronics
STMicroelectronics has introduced a tiny water-resistant pressure sensor that will be used in Samsung's latest Gear Fit 2 Pro wearable.
The Samsung Gear Fit 2 Pro is a sports band that supports features such as built-in GPS, continuous heart rate monitoring and larger on-board memory to allow the wearable to do more when not connected to a smartphone.
The LPS33HW waterproof pressure sensor is resistant to chemicals such as chlorine, bromine and salt water, making it suitable for pools, the ocean and for showering or cleaning. ST claims the sensor is accurate and helps OEMs get products to market quicker by recovering sooner after the stresses of manufacturing. This is due to the sensors' built-in processor and the water-resistant gel filling.
The pressure sensor can be used in applications other than wearables such as industrial sensors and utility meters. The LPS33HW can withstand being submerged up to 90 meters and features a low RMS pressure noise of 0.008mbar, allowing for apps such as altimeter, depth gauge or weather monitors.
The pressure sensor is in production and priced at $4.50 in 1,000 unit quantities.