Synaptive Medical Inc. (Toronto, Ontario, Canada) has released Modus V™, a second-generation, high-powered digital microscope with a robotic arm derived from Canadarm technology used on the International Space Station.
Modus V features the most powerful optics available on the market, providing unprecedented views of patient anatomy and allowing surgeons to perform less invasive procedures with more precision. For patients, less invasive procedures may lead to faster recovery times, reduced complications and, in some cases, may render an inoperable diagnosis operable.
For surgeons, Modus V's advanced instrument tracking with auto-focus, combined with a highly flexible arm,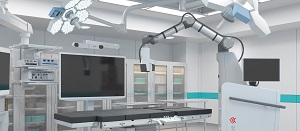 Source: Synaptive Medical Inc.also allows for increased surgical efficiency through hands-free control, better ergonomics during procedures and greater versatility in the operating room. These innovations feed developments in precision medicine by creating more opportunity to capture, analyze and draw trends from patient data and build better decision-making tools for physicians, researchers and hospital administrators.
The system offers hands-free tracking of surgical instruments, automatically focusing on the area being worked on. The motion of the arm can be pre-programmed, allowing for a procedure to proceed from one step to the next without having to manipulate the microscope. The range of motion of the robotic arm has been maximized as much as possible so that it can be positioned at different angles, giving a view of the surgical scene while staying out of the way of the clinicians.
Modus V is part of the BrightMatter product suite, which transforms surgical planning, patient data collection and intraoperative vision from disjointed analog methods to a fully integrated platform with navigation, robotic automation, digital microscopy and data analytics.