The Department of Neurosurgery at the Mount Sinai Health Systems has adopted the Modus V™ microscope into their hospital, becoming one of the first hospitals to adopt and successfully operate the Modus V™.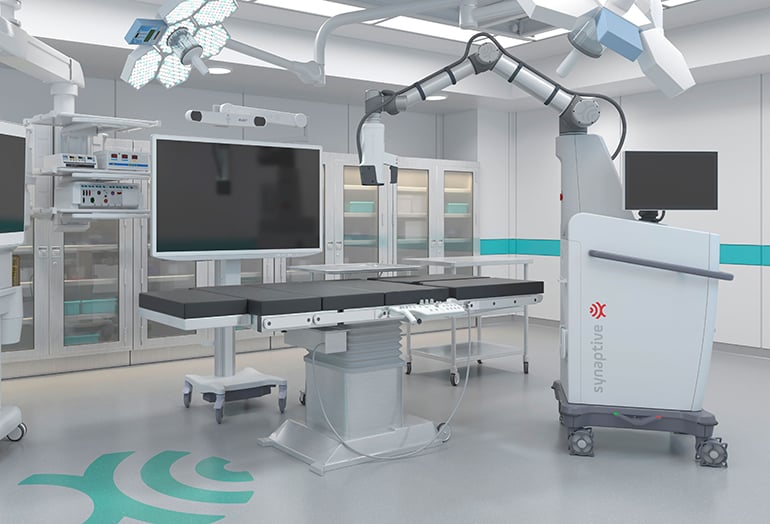 The Modus V microscope. Source: Mount Sinai/Synaptive Medical
The Modus V™ is a revolutionary microscope from Synaptive Medical. The microscope is revolutionary because it is a hands-free microscope that is controlled robotically. This allows doctors to have more freedom to move and adjust during operation because they don't have to manually adjust the microscope themselves.
Traditional microscopes that are currently used in operating rooms have an eyepiece and have to be adjusted manually. These microscopes are used to magnify images of the brain during surgery so doctors can see areas of the brain that are difficult to see with the naked eye. The new microscope does this, but it doesn't require manual adjusting. It has cognitive specs that automatically adjust the lighting and camera settings of the microscope as the surgery progresses for optimal video conditions.
The microscope consists of a robotic arm and high definition camera and provides high-quality images and videos of the brain during the operation. It integrates navigation, robotic automation and data analysis. It also allows for an operating room to be set up easier than traditional microscopes because it doesn't need to be adjusted after it is initially set up. The microscope is also built to grow with the medical technology field as it grows. The field is constantly growing and changing, so current technologies need to be able to adjust to any new developments.
The microscope has already been used in Mount Sinai hospital. Neurosurgeons and doctors used the Modus V™ during an operation on a 46-year-old patient who has glioma in the language portion of the brain. The surgeons monitored and simulated the patient's language during surgery to ensure that the patient is maintaining their speech ability while the tumor is being removed.
Visit the Mount Sinai site here to learn more about the new microscope and other new technological developments coming from the hospital.