Henry Ford Allegiance Health is the first in Michigan to offer patients the advantages of the ExcelciusGPSTM surgical system. The ExcelciusGPS is revolutionizing minimally invasive spine surgery by optimizing patient care and combining the benefits of navigation and robotics into one system. This technology is designed to increase safety for patients and accuracy for surgeons.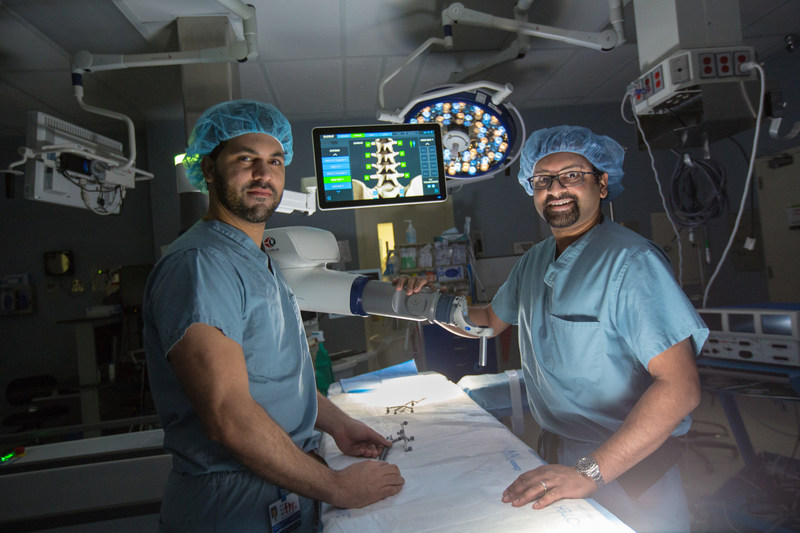 Henry Ford Allegiance Health neurosurgeons Azam Basheer, M.D., (left) and Amritraj Loganathan, M.D., with the ExcelciusGPS robot. (Source: Henry Ford Allegiance Health)
"Robot-assisted surgery is a new, emerging area that will become the standard in care," said Henry Ford Allegiance Health neurosurgeon Frank La Marca, M.D. "At Henry Ford Allegiance Health, we are committed to providing the highest quality of care for our spine surgery patients. We are excited to offer our patients the advantages of the Excelcius system, which allows us to perform minimally invasive procedures which may result in less blood loss, less muscle damage and a potentially faster recovery."
One of the advantages of the ExcelciusGPS system is the inclusion of a GPS 3D guidance system, designed to improve accuracy and patient care by combining robotics with navigation. This technology allows a neurosurgeon to place screws and implants in a very precise fashion while seeing exactly where to place their instruments in real-time.
Henry Ford Allegiance neurosurgeon Azam Basheer, M.D., said, "The GPS navigation gives me continuous feedback and allows me to see everything in real time. Now, my colleagues and I can preprogram coordinates, so the robotic arm can assist in guiding us to precise locations in the patient's spine. The result is safer, faster surgery with less radiation exposure and less need to reposition my patient."
"Another advantage of ExcelciusGPS is that it allows us to make even safer, more consistent and smaller incisions," said Henry Ford Allegiance neurosurgeon Armitraj Loganathan, M.D. "This is valuable because it promotes healing and lessens scarring."