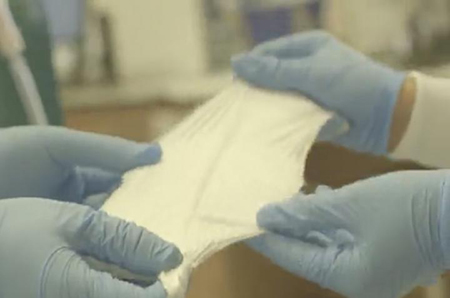 Researchers spin a fibrous mat out of a carbon nanofiber precursor, which will be used to create a solid-state electrode. Source: Drexel UniversityDrexel University researchers have created a new electrode that eliminates the flammable electrolyte solutions inside energy storage devices like batteries and supercapacitors. Their design could help make energy storage devices faster and less susceptible to leaks or meltdowns.
Thanks to the push for material shrinkage, the batteries inside mobile devices are particularly vulnerable to short-circuiting. Compound that with the presence of a flammable electrolyte liquid, and you've got a recipe for explosions.
But as published in the journal Applied Materials and Interfaces, a team led by engineering professor Vibha Kalra, Ph.D., produced a liquid-free supercapacitor device. Using a thick, ion-rich gel electrolyte absorbed in a freestanding mat of porous carbon nanofibers, it looks something like a furry sponge infused with gelatin.
"We have completely eliminated the component that can catch fire in these devices," said Kalra. "We have also created an electrode that could enable energy storage devices to become lighter and better."
Similar to batteries, supercapacitors are used in everything from mobile phones to electric cars and tend to serve as power backup. That's because they can disburse their stored energy in quick spurts — unlike batteries that do so over a long period of use.
The new device's compact, solid-state design is more durable than current comparable devices, with a better energy storage capacity and charge-discharge lifespan. It is also able to operate at temperatures as high as 300 degrees Celsius (572 F).
The fibrous fabric of the device is created through electrospinning — a process that extrudes a carbon polymer solution through a rotating electric field and looks, at the microscopic level, something like making cotton candy. Ion-rich gel is then absorbed into the carbon-fiber mat to create a complete electrode-electrolyte network. Because the mat provides a large surface area for contact, many of the binders typically used in electrode formation can be eliminated — along with the overall weight they would add to the device.
"These binders add dead weight to the device, as they are not conductive materials, and they actually hinder its performance," Kalra noted. "Our electrodes are freestanding, thus eliminating the need for binders, whose processing can account for as much as 20 percent of the cost of manufacturing an electrode."
Next for Kalra's group will be applying their production technique to create solid-state batteries, along with exploring its application for smart fabrics.