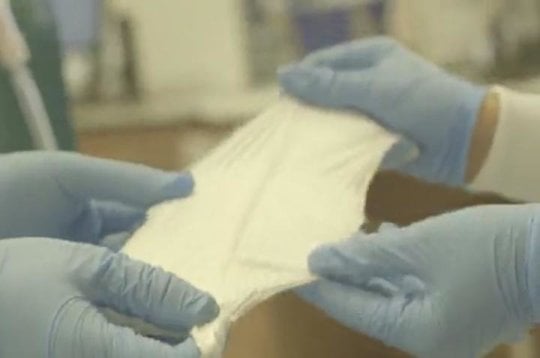 Drexel researchers have developed a solid-state, free-standing electrode that can make energy storage devices safer by eliminating their flammable electrolyte solution. The electrode uses a carbon fiber mat, made by the process of electrospinning shown here. Source: Drexel University
With the advent of mobile and wearable gadgets, the electronics industry is in need of better storage and safer devices—including batteries and supercapacitors. The electrolyte fluid normally used is corrosive, toxic and flammable. Energy storage devices have undergone a continuous shrinking to minimize the amount of electrolyte and increase safety, but this has also increased the possibility of short ciruits. (The recent case with Samsung's Galaxy is a case in point.) Short circuits compounded with flammable electrolyte liquid can create dangerous explosions.
A team of researchers at Drexel University attempted to solve this problem by developing a fabric, solid-state material electrode that eliminates the liquid flammable electrolyte. Dr. Vibha Kalra, professor in the College of Engineering, and her team used a special electrolyte gel mixed in porous carbon nanofibers, so electrodes manufactured with this material are liquid-free.
"We have completely eliminated the component that can catch fire in these devices," Kalra said. "And, in doing so, we have also created an electrode that could enable energy storage devices to become lighter and better."
Creating a solvent-free battery or supercapacitor not only made the storage device safer to operate, but the lack of liquid also made them smaller than existing devices. According to the researchers, they are more durable and their capacitors are better than comparable existing units. They can also operate in temperatures as high as 300° C.
"To allow industrially relevant electrode thickness and loading, we have developed a cloth-like electrode composed of nanofibers that provides a well-defined three-dimensional open pore structure for easy infusion of the solid electrolyte precursor," Kalra said. "The open-pore electrode is also free of binding agents that act as insulators and diminish performance."
The research results were published in the journal Applied Materials and Interfaces. An abstract can be found here: http://pubs.acs.org/doi/abs/10.1021/acsami.7b07479