A team of Rice University researchers have been working on the development of laser-induced graphene for a while. Now they're applying it to energy storage by using their discovery to create flexible, solid-state microsupercapacitors capable of energy storage and delivery.
The devices were developed by Rice chemist JamesTour and his team with electronics and wearables in mind.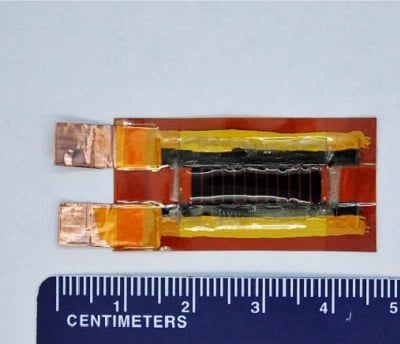 Rice University scientists are making small, flexible microsupercapacitors with a commercial laser. (Source: Tour Group/Rice University)
Microsupercapacitors are not batteries, but inch closer to them as the technology improves. According to Rice, while capacitors can store energy and release it quickly unlike common lithium-ion batteries that take a long time to charge and release their energy as needed, the new microsupercapacitors can charge 50 times faster than batteries. They also discharge at a slower rate than traditional capacitors and match commercial supercapacitors for both the amount of energy stored and power delivered.
The devices were created by burning electrode patterns with a commercial laser into plastic sheets in room-temperature air – simplifying the typically complex development process of microsupercapacitors.
"It's a pain in the neck to build microsupercapacitors now," sayd Tour. "They require a lot of lithographic steps. But these we can make in minutes: We burn the patterns, add electrolyte and cover them."
Their capacitance of 934 microfarads per square centimeter and energy density of 3.2 milliwatts per cubic centimeter is up there with commercial lithium thin-film batteries. According to the researchers, their devices also possess a power density two orders of magnitude higher than batteries and even remain stable when bent 10,000 times.
Effect of laser-induced graphene
The energy density can be attributed to the use of laser-induced graphene (LIG). Last year tour and his team discovered that heating a commercial polyimide plastic sheet with a laser burned everything but the carbon from the top layer—and what was left was a spongy assortment of a form of graphene.
After using manganese dioxide, ferric oxyhydroxide or polyaniline to treat the laser-induced graphene, they were able to form microsupercapacitors that didn't need current collectors, binders or separators.
Tour believes this discovery is bringing us closer to replacing batteries with supercapacitors.