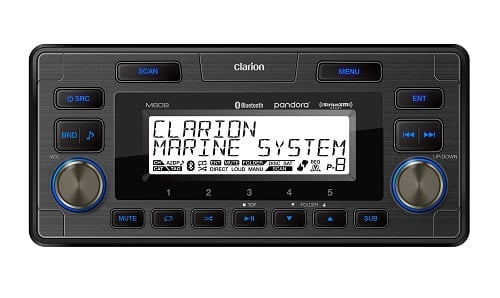 The M608 digital audio system. Source: Clarion Audio giant Clarion has introduced three rugged multimedia systems designed specifically for marine applications.
The three systems, the CMS20, M608 and M508, can endure years of marine use without damage and offer support to control features from a boat's on-board multi-function display (MFD).
The CMS20 is an IPX6-rated digital media system for powersports and other marine vessels. The two-piece system includes a compact black box for installation flexibility and a weather-protected controller that includes a backlit dot matrix LCD display. The sound system includes a 32-bit microcontroller paired together with a 4.1 channel audio processor for high quality and performance, Clarion says. Other features include six pre-amp outputs, built-in amplifier, AM/FM/WB tuner, Bluetooth, AUX-in and USB for stored music.
The M608 is a single DIN chassis that can replace most pre-existing radios in marine vessels and features a large, white LED-backlit LCD display and four-one volume control, making it possible to adjust the volume level in up to four independent audio zones on the same vessel. Other features include a 200 watt internal amp, eight pre-amp outputs, global AM/FM/WB tuner, Bluetooth aptX, AUX-in and USB.
The M508 is a single DIN marine-grade multimedia source unit that also can replace existing systems and also features a white LED-backlit LCD display and two-zone volume control. Connectivity options include global AM/FM/WB tuner, Bluetooth aptX, AUX-in and USB for music storage on a flash drive, iPad or iPod.
Clarion says the marine multimedia audio systems will begin shipping in the first quarter of 2018.