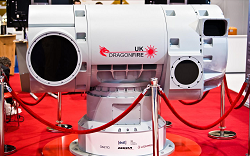 The weapon's turret component. Source: QinetiQA high-energy laser cannon being developed by UK Dragonfire, a consortium of UK manufacturers, under a contract with the UK Ministry of Defence was unveiled in London at the 2017 Defence and Security Equipment International exposition.
The beam director, or turret, on exhibit is one component of a 50-kilowatt class of directed energy weapon designed for use on both land and sea. Intended applications for the laser-directed energy weapon include short-range air defense, close-in protection for naval vessels, counter-unmanned aerial vehicles and protecting friendly forces from mortar and artillery attack.
The beam director, to be provided by Leonardo, will be combined with QinetiQ's powerful laser emitter and electro-optics for target identification and tracking. MBDA, a European developer and manufacturer of missiles, is bringing prime weapon system delivery experience and advanced weapon system command and control and image processing capability to UK Dragonfire, in addition to coordinating the overall effort.
Testing of the demonstrator will begin on UK ranges in 2018, culminating in a major demonstration in 2019.