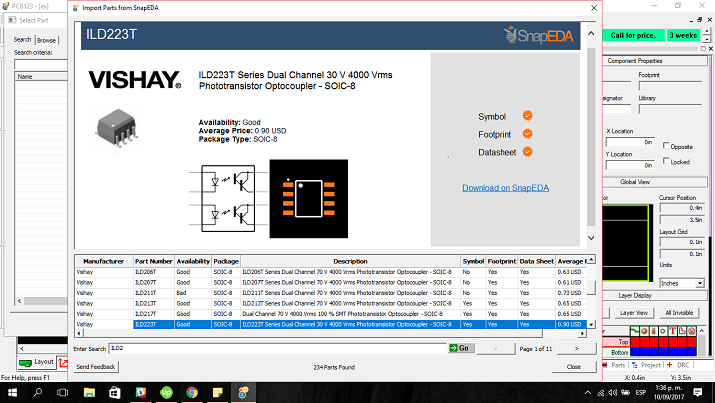 Source: SnapEDA
Sunstone Circuits, creators of the printed circuit board design tool PCB123, and SnapEDA, an online parts library for circuit board design, are launching a new integration that allows designers to search for digital models directly inside the PCB123 design environment.
PCB123 is a free, full-function PCB CAD tool comprised of a schematic editor, physical layout editor, three-dimensional mechanical previews and bill of materials editor. The new integration with SnapEDA's cloud-based libraries is geared at saving time for designers by allowing free search and download of cloud-based symbols and footprints during design capture and layout.
Real-time access to new symbols and footprints as they are added to SnapEDA's catalog is also supported. Parts can be requested with SnapEDA's 24-hour service, InstaPart. Design content is available for millions of electronic components, enabled by SnapEDA's proprietary, automated library creation, translation and verification technology.
All new models created by SnapEDA conform to the latest IPC standards (IPC-7351B) and are vetted with patent-pending verification technology.