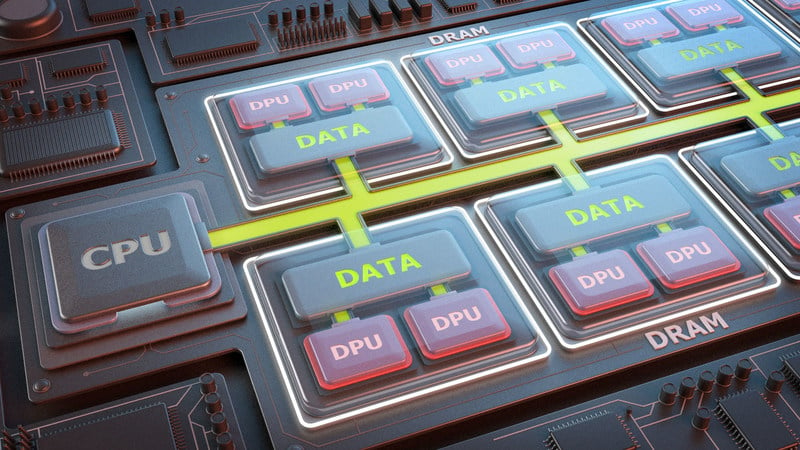 UPMEM Processing In-Memory (PIM) acceleration solution localizes processing cores next to the data, solving the performance bottleneck of big data computing. Source: UPMEMUPMEM announced the launch of the UPMEM Processing In-Memory (PIM). This is the next-generation hardware solution for data intensive applications in the data center, solving server-level efficiency and performance bottlenecks.
The PIM chip, integrated into UPMEM's proprietary RISC processors (DRAM Processing Units, DPUs) and main memory (DRAM), is the building block of the first scalable and programmable acceleration solution for big data applications. Associated with its software development kit, the UPMEM PIM solution can accelerate data-intensive applications in the data center servers 20 times with almost zero additional energy premiums. This opens new horizons for big data players.
UPMEM's technology solves the memory wall and the dominant energy cost of data movement between the processor and the main memory in application servers. Thousands of UPMEM in-memory co-processors (DPUs), orchestrated by the main processor, localize most of the data processing in the memory chips and propose familiar programmability. The UPMEM solution comes without disruption of existing server hardware, standardized protocols, programming and compiling schemes, removing any barrier for fast and massive adoption. The UPMEM solution gives full DNA mapping and variance analysis in minutes.
The financing round will enable the company to produce and bring to market its disruptive PIM chip-based solution. UPMEM will accelerate its evaluation programs with top-tier global big data customers and IT labs.
To learn more about this product, visit UPMEM.