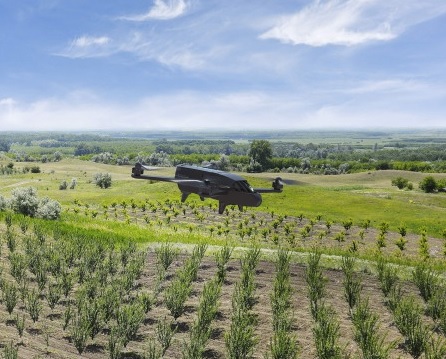 The Parrot Bluegrass agriculture specific drone. Source: ParrotParrott Professional has introduced an all-in-one quadcopter built with thermal imaging that is designed for construction and public safety services.
The Bebop-Pro Thermal builds on other drones the company has launched this year, including its Parrot Disco-Pro AG and Parrot Bebop-Pro 3D modeling vehicles.
The thermal drone is designed to deliver precision data that can be plugged into existing industry workflows. The quadcopter allows construction and rescue service professionals to carry out inspections with two embedded cameras both a video camera and thermal imaging camera.
The front full HD video camera allows users to monitor structure or specific areas while the thermal camera allows workers to get precise and detailed thermal images due to a dedicated FreeFlight thermal app.
Parrot says the new drone is easy to set up, easy to fly and easy to repair. It can record videos or take pictures of buildings, roofs, solar panels or other areas as well as stream live video.
The Bebop-Pro Thermal is based on the Bebop 2 Power quadcopter that has been modified to benefit construction and safety professionals. It has the ability to switch from a thermal image to an HD image with 32GB of memory to capture content.
Parrot has also introduced its Bluegrass multipurpose drone that is targeted at farmers to help improve return on investment (ROI) by using two embedded cameras — a video camera and multispectral sensor. The drone helps in visual monitoring of a farm's infrastructure providing analysis on the health of crops through processing software.