Sponsored content
A number of high-profile fires over the past several decades have served to alert just how dangerous plastics can be when burned. In the King's Cross fire in the late 1980s, for example, 32 people died in a London underground subway from the toxic fumes. That one incident prompted the U.K. to initiate more stringent standards to prevent halogen-related deaths, even though at that time the cable would not be as flame retardant as PVC jacketed cable.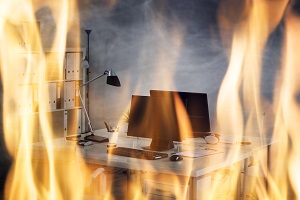 In addition to fatal fires, the sheer volume of cable that exists today adds fuel to residential, commercial and industrial settings. In response, materials with a high resistance to fire were developed with little performance penalty. Low smoke zero halogen (LSZH) compounds not only deliver greater fire protection performance, they have been constantly evolving so that the number of applications and performance are increasing, while relative cost is beginning to decline.
Low smoke zero halogen cable insulation and jacket have no fluorine, chlorine, bromine, iodine or astatine, so they do not emit toxic or corrosive fumes and create minimal smoke when fire is present. LSZH cables feature a flame-resistant jacket that doesn't emit toxic fumes even if burned.
LSZH cables also feature:
Non-propagation of fire and flame
Less dense smoke emission
IEC standards compliance
Flame retardant
Given the absence of PVC, when burned, LSZH cable produces small amounts of light grey smoke and minute levels of hydrochloric acid (HCl), increasing the chance of escape during a fire. Sheath and conductor insulation of the cable can be made from polyethylene, containing little chlorine, so that HCl is not an issue.
To read more, visit http://www.globalspec.com/QuabbinWireCable/ref/NutsAndBoltsofLowSmokeZeroHalogenCabling.pdf.