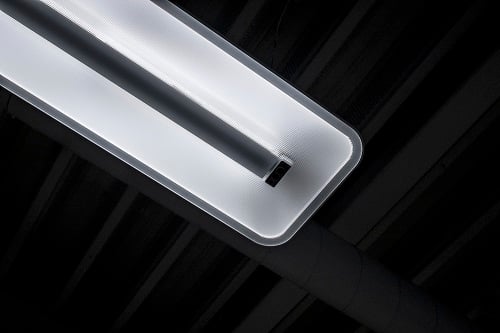 The power-over-Ethernet lighting built into the smart office. Source: Philips LightingPhilips Lighting has installed what it claims is the first power-over-Ethernet (PoE) connected lighting system in the Nordics using Cisco networking technology.
The lighting system was built into a new smart office in Albertslund Municipality in Copenhagen, Denmark. The smart office gives users the ability to personalize office lighting using a smartphone app while saving energy use and space utilization.
The smart office features a Philips PoE connected lighting system with occupancy sensors integrated into the luminaires. About 400 light emitting diode (LED) light fixtures are connected to Cisco's secure networking technology and powered by a small electric charge carried by the network's Ethernet cables, which also route data acquired by the sensors to the building's management system.
The smart office is one of the first steps in the European Union-funded "Lighting Metropolis" initiative, which plans to make the whole of greater Copenhagen a vibrant laboratory for connected lighting. The Albertslund Municipality smart office is one of the initiative's initial projects and joins more than 25 other demonstration projects under development, from lighting for psychiatry to traffic lights and lighting for schools.
"The new connected lighting system provides us with an infrastructure fit for the digital age," says Niels Carsten Bluhme, director of city, environment, culture and employment at Albertslund Municipality. "The municipality expects that the results will be promising enough to broaden the use of such technology to other municipality buildings — with the initial focus on buildings used for administration, health care and learning. Environments where lighting can be adjusted by staff to meet their needs and have sensor-based functions are becoming increasingly important."
The system uses Cisco PoE switches that transmit power and data over standard Ethernet cables. Data acquired by the sensors in the lighting fixtures provide information such as light levels, energy consumption and room occupancy to help building managers optimize energy use and management of the office space, Philips says. A smartphone is used to control not just the lighting but the other building services.